Oatmeal Dutch baby pancake with chocolate chips and pecans
The other day I pulled out my copy of "Talk About Good," the Junior League of Lafayette's cookbook. Because of Mardi Gras, this time of year I often feel an urge to eat Cajun cuisine and this collection has a host of excellent recipes from local home cooks. Though as I was flipping through the book, instead of a gumbo or an étouffée catching my eye, it was an entry for oatmeal pancakes that made me want to cook.
Now, oatmeal pancakes aren't unique to Louisiana, as I've had them in Texas and in other places across the country. But nevertheless, I was drawn to this recipe, which in hindsight wasn't that much of a surprise. See, during these final days leading up to Lent, I may think of myself as a mask-wearing, street-dancing Carnival gal. But because of how I was raised, at heart I'm more of a Shrove Tuesday, parish hall, pancake person instead.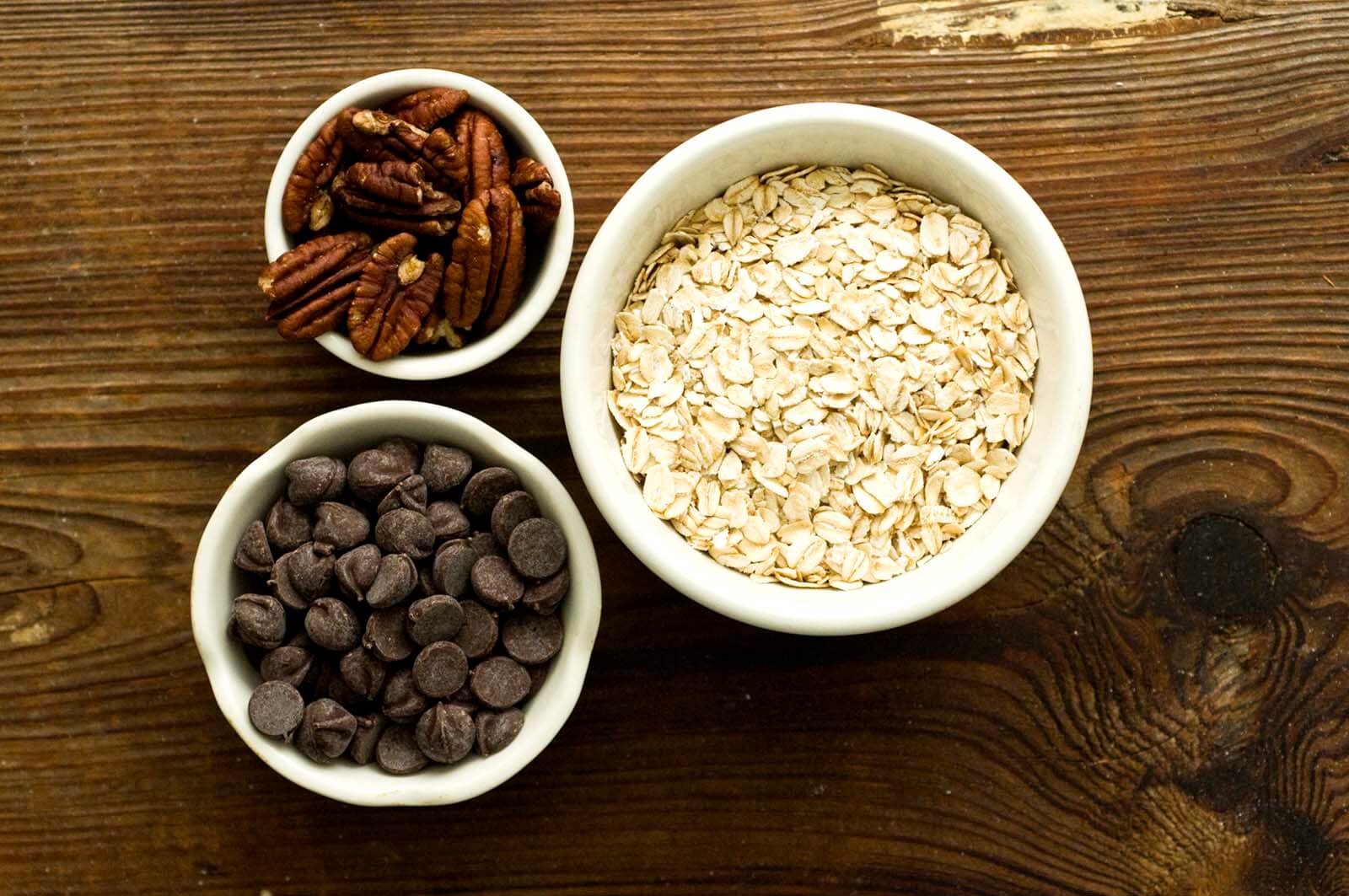 While preferring a pancake supper to a lively party on the day before Lent isn't a bad thing, it can be a bit boring. That said, pancakes can be also be fun—you just need to approach them with a bit of creativity. For instance, in the past I've made banana, bacon, and pecan pancakes, which were sweet, smoky and very exciting. Then there is my apple green chile Dutch baby, which is a skillet pancake that's quick and good, especially if you want to spend more time visiting with people then cooking.

Even though I've made lots of different pancakes in my time, one that I've wanted to make but never have is is an oatmeal pancake loaded with pecans and chocolate chips. In my mind, it would encompass all the sweet and salty chunky attributes of a cowboy cookie, but in pancake form. So, when I saw the oatmeal pancake recipe, it was time to put my idea into action.
After making the basic oatmeal batter, I stirred in some chocolate and nuts and began to cook using the traditional, stand-at the stove method. The flavor was fine, but after a couple of not-so-attractive rounds I realized I had been spoiled by the ease of a Dutch baby and no longer had much patience for flipping pancakes. It was time to changed course make my chocolate chip oatmeal pancake an oven-baked Dutch baby instead.
A Dutch baby is similar to a popover or Yorkshire pudding, which means the ratio of eggs to flour is higher than in a regular pancake batter. It's the eggs that make it rise and then settle into a tender, rich pastry that's lightly crisp at the edges. So, after adding more eggs to my mix and reducing the amount of flour and oatmeal, I whirred the ingredients in the blender, which made for a quick preparation. Before baking, I heated butter in a skillet, added chopped pecans along with orange juice for brightness. Then I poured in the batter, threw in a generous helping of chocolate chips, slid the skillet into the oven, and walked away. No standing at the stove necessary.


A few minutes later, I took out the Dutch baby and marveled at its generous puff, which quickly deflated but this didn't prevent it from being any less delicious. I drizzled it with more orange juice along with a generous dusting of powdered sugar, then sliced it into wedges for serving. The whole dish took little preparation and best of all, I could enjoy my company without working too hard, which is sometimes all you want to do.
Oatmeal Dutch baby pancake with chocolate chips and pecans
Ingredients
4

large eggs

1

cup

whole milk

½

cup

rolled oats, not instant

1/2

cup

all-purpose flour

1

teaspoon

vanilla extract

3

tablespoons

brown sugar

1

teaspoon

ground cinnamon

1/2

teaspoon

kosher salt

4

tablespoons

unsalted butter

1

teaspoon

granulated sugar

½

cup

chopped pecans

2

tablespoons

orange juice

2

tablespoons

orange zest

½

cup

semi-sweet chocolate chips

Powdered sugar, for serving
Instructions
Preheat the oven to 425 °F. In a blender add the eggs, milk, oats, flour, vanilla, brown sugar, cinnamon, and salt and mix until a smooth batter is formed.

In a large ovenproof skillet, melt the butter on low heat. Add the pecans to the skillet along with the granulated sugar, 1 tablespoon of the orange juice, and the zest. While stirring, cook for 1-2 minutes until the pecans are just beginning to brown and are fragrant. Turn off the heat and lightly salt the pecans, if desired.

Pour the batter over the pecans then evenly sprinkle over the batter the chocolate chips. Bake uncovered in the oven for 20-25 minutes or until the Dutch baby is lightly browned and puffy.

While warm, sprinkle the Dutch baby with the remaining orange juice and then top with confectioners' sugar. Slice into wedges and serve immediately. Note that it will deflate a bit soon after it comes out of the oven but this does not make it any less delicious.