Potato salad, Oak Cliff style
My dad's side of the family loves hard-boiled eggs. They fold them into their salads, plop them into their giblet gravy, and whip them into deviled eggs, dishes that were all served at family gatherings in Oak Cliff when I was young
Now, I'm fine with hard-boiled eggs but don't eat them nearly as often as my family does. Indeed, it seems that it's only in the spring after Easter that I have them on hand. If they're offered to me, I usually won't refuse them. But they're not something that I take an active role in keeping around.
When I was writing my second cookbook, I considered adding a potato salad my great-grandmother and grandmother had made. Yes, it included hard-boiled eggs. At that time, however, the combination of potatoes and eggs didn't appeal to me, and I decided to forgo sharing the recipe at that time.
A few years later, however, I shared an old Texas potato salad with nasturtiums, which called for hard-boiled eggs. While I was still hesitant about them being in my salads, for the sake historical accuracy, I followed the recipe as written and kept the eggs.
Over the years, this side has become a favorite, and while the colorful flowers take it over the top, the base salad, eggs and all, is a solid representation of the form.
When I had some hard-boiled eggs on hand recently, I was torn about how to use them. I considered making deviled eggs, but I had plans to cook a brisket and wanted to serve it with potato salad. Since I couldn't find nasturtiums, I decided to look at my family's eggy version once again.
The original family recipe called for potatoes, hard-boiled eggs, dill pickles, onion, pickle juice, and a dressing that featured Durkee's dressing. The latter, if you're unfamiliar, is essentially a blend of mayonnaise and mustard.
While I followed the original ingredient list almost exactly, Durkee's is a challenge to find so I adapted the dressing a bit. For color, I swapped out the white onion for red. Lastly, I exchanged some pickled jalapeños for some of the dill pickles for more of a kick, though this it's still terrific without this change.
There are only a few ingredients in this potato salad, but the balanced zest of the dressing with the abundance of bright pickles and snappy onions make the salad seem more complex than it is.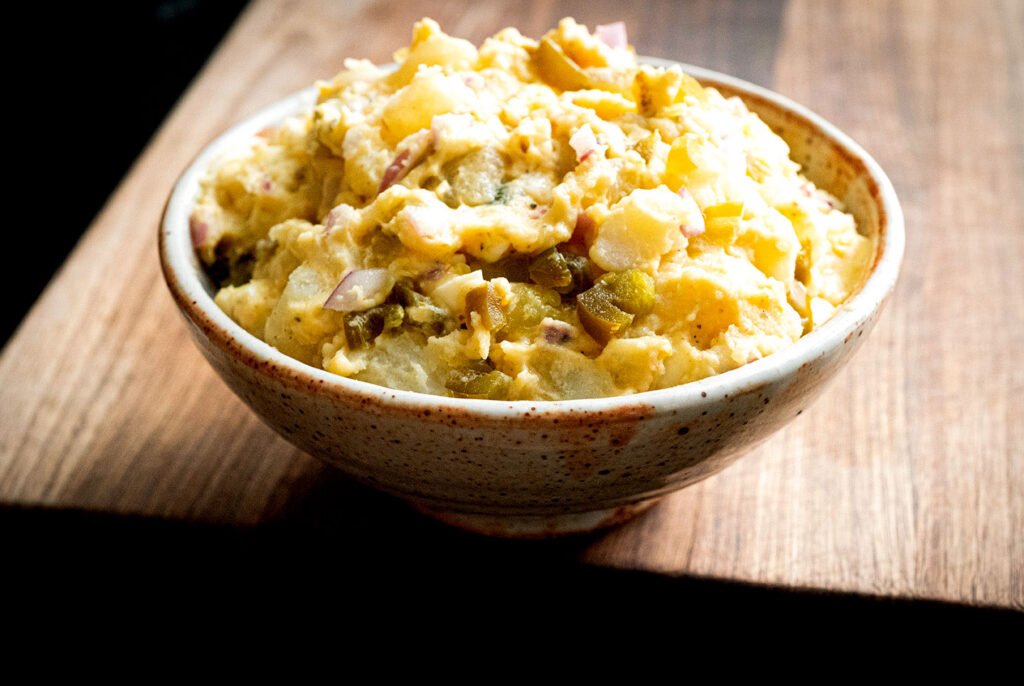 It comes together quickly. And after I took my first tangy, creamy, chunky bite, I was back at my great-grandmother's eating a plate piled high with food, listening to my family laugh and tell stories while we enjoyed our dinner in a house across the street from Kiest Park.
—————
Would you like more Homesick Texan? Well, I've started offering additional recipes for paid subscribers to help with the costs of running the site. While I'm not taking anything away, if you'd like to support Homesick Texan and have access to exclusive, never-seen-before subscriber-only posts, please consider becoming a member; annual subscriptions are as low as $25. Thank you for reading, your consideration, and your support!
—————
Potato salad, Oak Cliff style
Ingredients
For the salad:
3

pounds

Russet potatoes, peeled and cubed

2

tablespoons

kosher salt

4

hard-boiled eggs, chopped

1

small red onion, diced

1

cup

chopped dill pickles
For the dressing:
1/2

cup

mayonnaise

2

tablespoons

pickle juice

2

tablespoons

yellow mustard

1

tablespoon

ketchup

1

tablespoon

red wine vinegar

1

teaspoon

Worcestershire sauce

2

teaspoons

garlic powder

1

teaspoon

black pepper

1

teaspoon

paprika

1

teaspoon

celery salt

1/2

teaspoon

turmeric
Instructions
Peel the potatoes then cut them into 1/2-inch cubes. Place the potatoes in a large pot with the salt, cover with cold water, bring to a boil on high, then turn the heat down to medium and cook until fork tender, about 10 minutes. Drain and rinse and turn off the heat.

Place the potatoes in a mixing bowl. Taste and add salt as needed. Add to the potatoes the egg, red onion, and dill pickles. Stir until well combined with the potatoes.

To make the dressing, stir together the mayonnaise, pickle juice, mustard, ketchup, red wine vinegar, Worcestershire sauce, garlic powder, black pepper, paprika, celery salt, and turmeric.

Add the dressing to the potatoes and stir to evenly combine. Taste and make any adjustments as desired. Chill before serving.
Notes
If you want to add some fire to this salad, substitute pickled jalapeños for some of the dill pickles