Red chile seafood chowder
For the Super Bowl, my friends and I usually serve food that represents the teams. And with Boston and New York playing this year, clam chowder seemed like the perfect fit.
But since I'm not committed to either the Giants or the Patriots, I couldn't decide which style of chowder to offer. Did I want to serve the comforting cream-based New England style or did I want to serve the more lively tomato-based Manhattan style instead? Or perhaps I could offer both, and have people choose their favorite in a match called The Chowder Bowl.
It was a tough call and I was having a difficult time making a choice. Fortunately, my fishmonger made the decision easier for me. When I paid her a visit, all she had on hand were littleneck clams. I asked how many I'd need for chowder and she said, "With littlenecks, it's not worth it. They're too small. They're not good chowder clams."
"But it's the Super Bowl this Sunday!" I said. "What should I do?" She looked at me and said, "When we watch the game, we like to eat dip."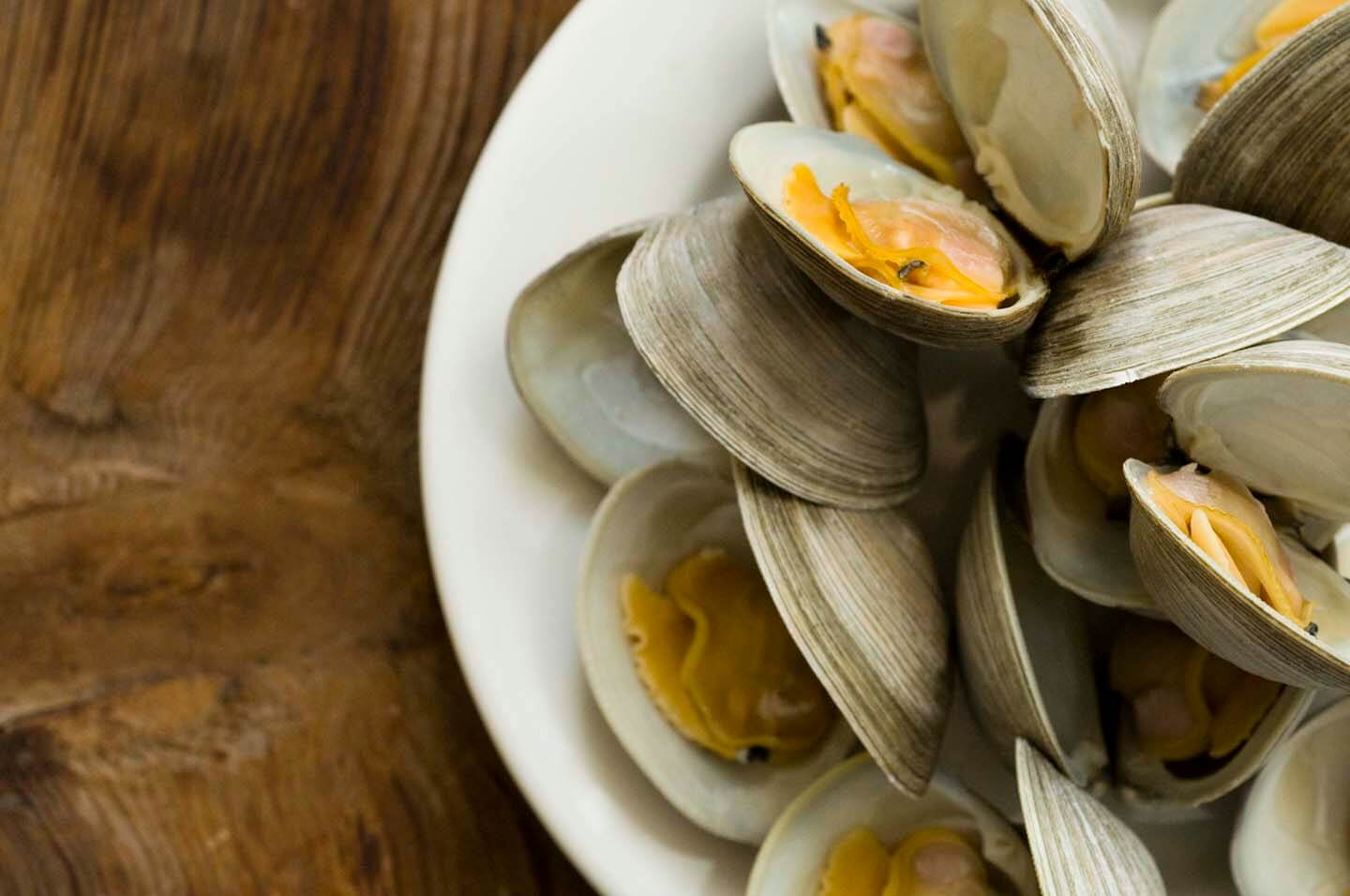 With that in mind, I took my bag of not-chowder clams and decided to follow her advice. There was a cream-cheese clam dip recipe in one of my Junior League books, but even after I spiced it up with some chiles and bacon it didn't thrill me. Clearly, I still had chowder on the brain so I returned to my original plan. But this time, instead of just making chowder with clams, I also threw in some fish and shrimp to make seafood chowder instead.

Now, most people think of chowder as an East Coast dish but it also has a long history in Texas. There are several recipes for it in The First Texas Cook Book, which was published in 1883. And throughout he 1800s, the state's newspapers published recipes, with a Galveston paper running a chowder tutorial on its front page saying that chowder was a favorite for parties.
The methods for making chowder haven't changed much over the years, but for mine I swapped bacon for the salt pork and infused my tomato base with guajillo and chipotle chiles for some spice. For the seafood, I used clams, shrimp and red snapper, though you could easily throw in crabs, oysters, grouper, redfish or any other seafood that you prefer. This is a versatile dish.
I love seafood, and having a bowl full of some of my favorites makes for a hearty and satisfying meal. But one of the best things is that you don't have to make a choice between the Manhattan or New England styles, as it combines the best qualities of both. The tomato and chile base is full of flavor. And since it's pureed, it's so smooth and velvety you might swear there's a splash of cream.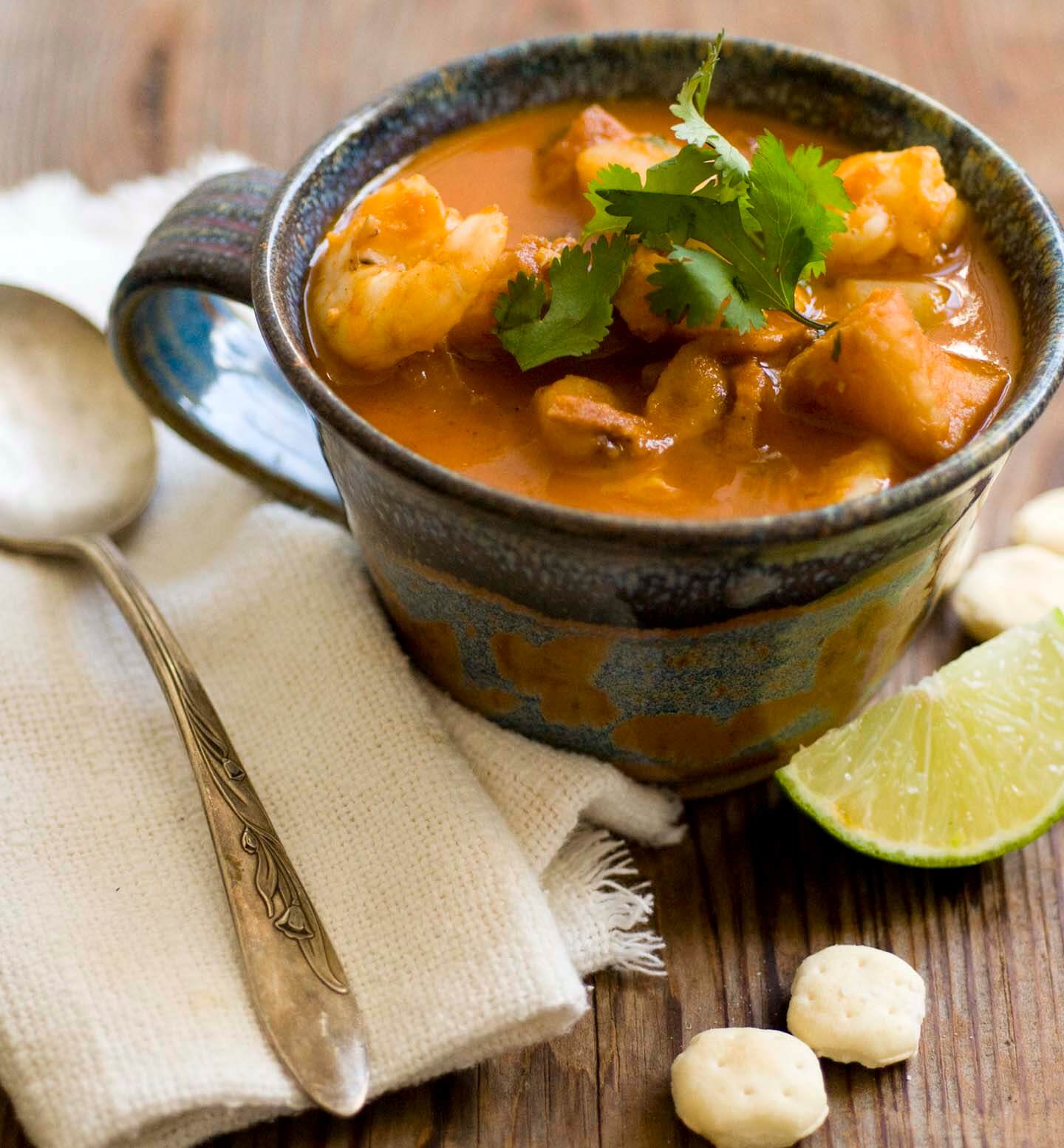 This chowder will definitely be making an appearance on Sunday, along with some of my other game-day favorites. And sure, I might not be that invested in the actual game, but that doesn't really matter. For me it's the food served that's always the true winner.
Red chile seafood chowder
Ingredients
4

dried guajillo chiles, seeds and stems removed

24

Littleneck clams, scrubbed and rinsed or 2 10-ounce cans of chopped clams

4

slices

uncooked bacon, chopped

1/2

medium yellow onion, diced

6

cloves

garlic, minced

1 28-

ounce

can of diced tomatoes, preferably fire roasted

1

canned chipotle chile

1

teaspoon

ground cumin

1

teaspoon

oregano

1/2

teaspoon

allspice

1/4

teaspoon

ground ginger

Pinch

of cayenne

1 1/2

pounds

Russet potatoes, peeled and cut into 1/4-inch cubes

2

cups

fish, vegetable, or chicken broth

Salt and black pepper to taste

1/4

cup

chopped cilantro, plus more for garnishing

1

cup

clam juice

1

pound

grouper, cut into 1-inch cubes

1

pound

small shrimp, 51-60 count, peeled and deveined

1

tablespoon

lime juice

Oyster crackers and/or tortilla chips for serving

Lime wedges for serving
Instructions
In a dry skillet heated on high, toast the guajillo chiles on each side for about 10 seconds or until they start to puff. Fill the skillet with enough water to cover chiles. Leave the heat on until water begins to boil and then turn off the heat and let chiles soak until soft, about 30 minutes. Once hydrated, discard the soaking water and rinse the chiles. Place into a blender.

Meanwhile, if using fresh clams, fill a pot large enough to hold the clams with 2 cups of water. When it comes to a boil, add the clams, cover the pot and let them steam until the shells open, about 3-5 minutes. With a slotted spoon, remove the clams from the pot (throw out any clams that don't open), discarding the cooking liquid. When cool enough to handle, remove the meat from the shells, rinse well to remove any additional grit and chop. If using canned chopped clams, drain and rinse well to remove any shell pieces and grit.

In a large pot, cook the bacon on medium heat until the fat is rendered. Remove the bacon and drain on a paper-towel-lined plate. Leave 1 tablespoon of the bacon fat in the pot (reserve the rest for another use) and add the onions to the pot. Cook on medium heat until soft, about 5 minutes. Add the garlic and cook for 30 more seconds. Place cooked onions and garlic into the blender. Add to the blender the canned tomatoes with their juice, the chipotle chile, the cumin, oregano, allspice, ginger and cayenne. Blend for 3 minutes until it's extremely smooth.

Place the potatoes in the pot and lightly sprinkle the potatoes with salt and pepper. Add the broth to the pot, bring to a boil, cover the pot and cook the potatoes until they are firm yet tender, about 10 minutes. Remove the lid, turn the heat down to low and add to the pot the red chile tomato puree from the blender, cilantro, clam juice and cooked bacon. Taste and adjust seasonings, adding more salt and pepper to taste. (Please note that the red chile tomato puree might aggressively bubble and splatter when added to the pot.) Add the grouper to the pot and cook for 5 minutes uncovered. Stir in the chopped clams, shrimp and lime juice and cook for another 5 minutes or until the shrimp is pink. Remove from the heat, garnish with cilantro and serve immediately with lime wedges and oyster crackers.

If you have any leftovers, reheat the chowder on low and don't let it boil, otherwise the seafood will get rubbery.