Salsa tatemada, South Texas roasted red salsa
The salsas you encounter at Tex-Mex restaurants across the state vary by region. For instance, in Dallas, the main salsa is a bright and lively tomato-based condiment, seasoned with cumin, cilantro, and aromatics. In Houston, along with a red salsa, a creamy green salsa made from avocados and tomatillos is also abundant. In West Texas, a tangy green chile salsa is usually seen. And in San Antonio, it's the deep-roasted and charred salsa that graces most tables.
For years, I've called this dark tomato salsa San Antonio salsa, as I didn't know how else to qualify it. Those who knew, however, were aware of what I spoke of, as when you visit places such as Rosario's, La Fogata, and El Mirasol, a soulful bowl of it always arrives with the salty chips. Its depth of flavor and smooth texture makes it approachable and addictive. Yet it's also elevated from other salsas, as its lushness clearly takes time to develop.
The other day, I was reading about someone serving steak tacos that were dressed with a salsa known as "salsa tatemada." I'd never heard of that particular salsa before and was curious what it entailed. As I did my research, I saw it was a deep, rich sauce of charred tomatoes, chile peppers, and aromatics blended together. The result appeared to be similar to my beloved San Antonio salsa. Could they be the same?
I decided to make a batch, and while it seems no two salsa tatemada recipes are alike, they do all call for roasting the ingredients until dark. Many use a griddle or their oven, though others work with a flame either on a gas stovetop or a grill. For mine, much as I did when making a salsa I'd refer to as "San Antonio-style," I used my broiler, as it gets the job done evenly without too much fussing.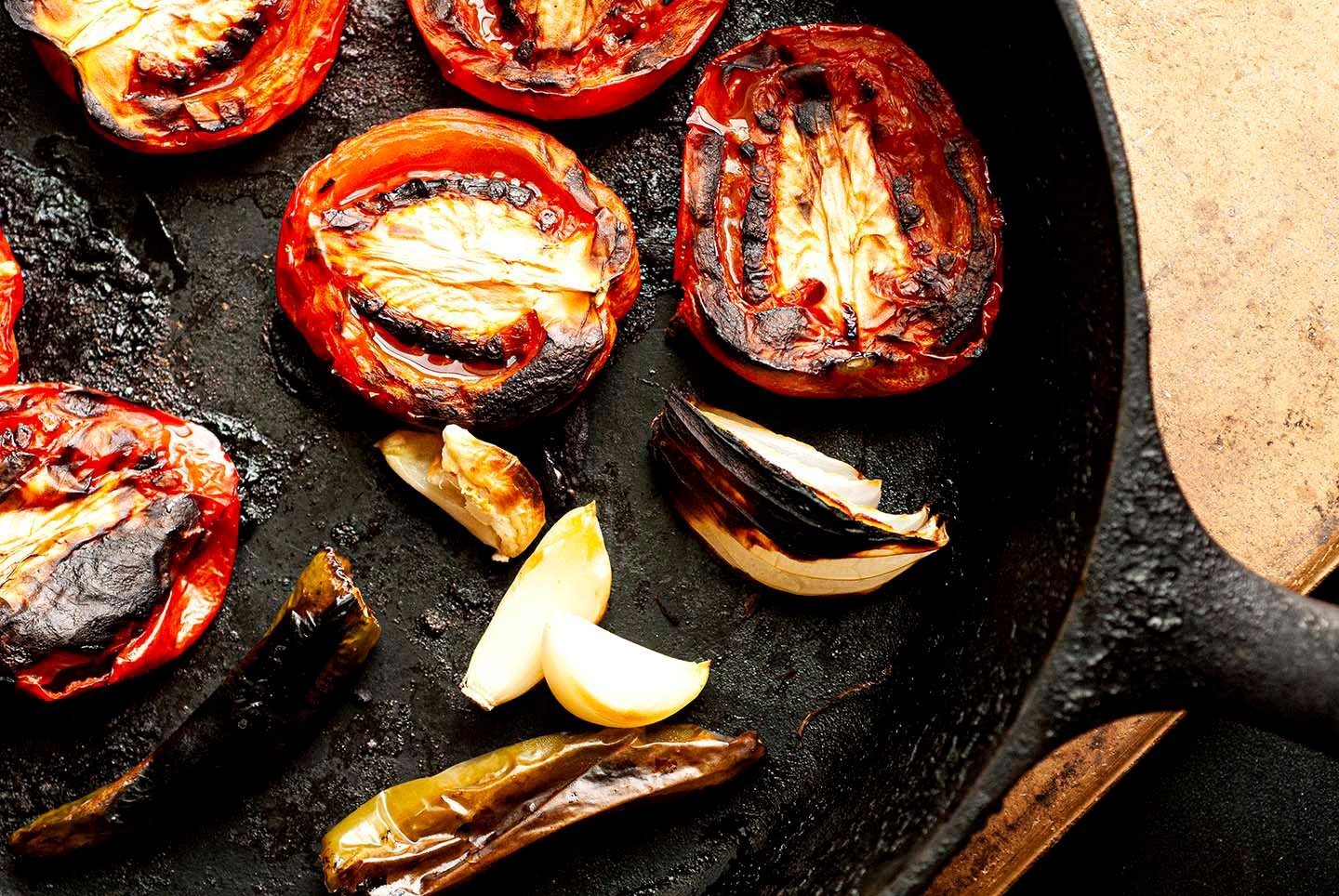 Some salsas tatemada call for tomatoes, while others use tomatillos. The chile peppers can also vary, as jalapeños, Serranos, chiles de arbol, and even chipotles can be added to the mix. Though the aromatics are always the standard—onion and garlic, and to finish, usually a fresh handful of leafy cilantro is tossed in at the end.
For mine, I decided to go with the classic South Texas foundation of tomatoes and Serrano chiles. I fired them under the broiler along with onion and garlic until crisp and dark. I then threw them into the blender with the cilantro.
Because so much of the juice is extracted from the cooking, I deglazed my skillet with water and what came forth was a dark liquid seasoned with the essence of tomatoes and chiles. I added that to the blender along with a hit of salt, pureed the ingredients, and the salsa was done.
While I don't like to play favorites, I confess that I'm quite partial to this roasted style of table salsa. So immediately after I prepared my batch, I took a crisp chip and dipped it into the blend. The blackened tomatoes and peppers formed an elixir so alluring that each bite invited me to return to it again and again.
—————
Would you like more Homesick Texan? Well, I've started offering additional recipes for paid subscribers to help with the costs of running the site. While I'm not taking anything away, if you'd like to support Homesick Texan and have access to exclusive, never-seen-before subscriber-only posts, please consider becoming a member; annual subscriptions are as low as $25. Thank you for reading, your consideration, and your support!
—————
Salsa tatemada
Ingredients
4

plum tomatoes (1 pound), cut in half, lengthwise

2

serrano chiles, stems removed

4

cloves

garlic, peeled

1/4

small yellow onion, peeled

1/2

cup

chopped cilantro

1/2

teaspoon

kosher salt
Instructions
Turn on the broiler and position the rack 4-inches away from the heating element.

Place the tomatoes, Serrano chiles, garlic, and onion in a cast-iron skillet, then slide the skillet under the broiler. Cook for 10 minutes, then turn over the chile peppers and remove the garlic from the skillet, and place the garlic in the blender.

Return the skillet to the oven and continue to cook 10-15 more minutes until everything remaining is blackened. Remove the tomatoes, chiles, and onion from the skillet, and place in the blender.

Pour 1 cup of water into the skillet and swirl it around. Pour the liquid into the blender along with the cilantro and salt. Blend until smooth, then taste and add more salt if needed.