Texas sweet onion pudding
There are several harbingers of a Texas spring, such as the bluebonnets in bloom, the return of baseball, the lighter, warmer days, and the arrival of the Texas 1015 sweet onions at the markets. On a recent trip to the grocery store, there was a huge display of the latter, so I grabbed a few and brought them home.
Sweet onions are not unique to Texas. In Georgia, they have the Vidalia and in Washington, they have the Walla Walla. While the varieties from Georgia and Washington may be more widely known, Texas can also claim itself as a sweet onion haven.
Indeed, Texas being large and vast, not only has the 1015, which was developed at Texas A&M and is so named for the date on which they are best planted but there is also the East Texas Noonday onion, which arrives in May.
Since the 1015 is the first to arrive, it perhaps is more well known. When I lived in New York, I could sometimes even find them at my local store, which was always a cause for celebration. I'd buy a big bag and then slice them into salads, fry them into rings, and bake them into casseroles. They are tender, sweet, and juicy, and can be eaten in many ways.
With my recent haul, however, I wanted to try something new. When looking at recipes, I came across a dish called sweet onion pudding. Who doesn't enjoy a dish called pudding, as its name suggests comfort and ease? While the word is often attached to a sweet dessert (the English even say pudding as a generic phrase for all desserts), it also has a longstanding connection to savory casseroles.
These savory puddings, such as corn puddingor carrot pudding, usually follow the same template, which is a vegetable blended with an egg and dairy custard. They are meant to be served as an accompaniment to the main dish, such as ham or roast. Though there is often a hint of sweetness in the dish, both from the fresh, in-season vegetable as well as warm spices such as nutmeg or cinnamon that may be used.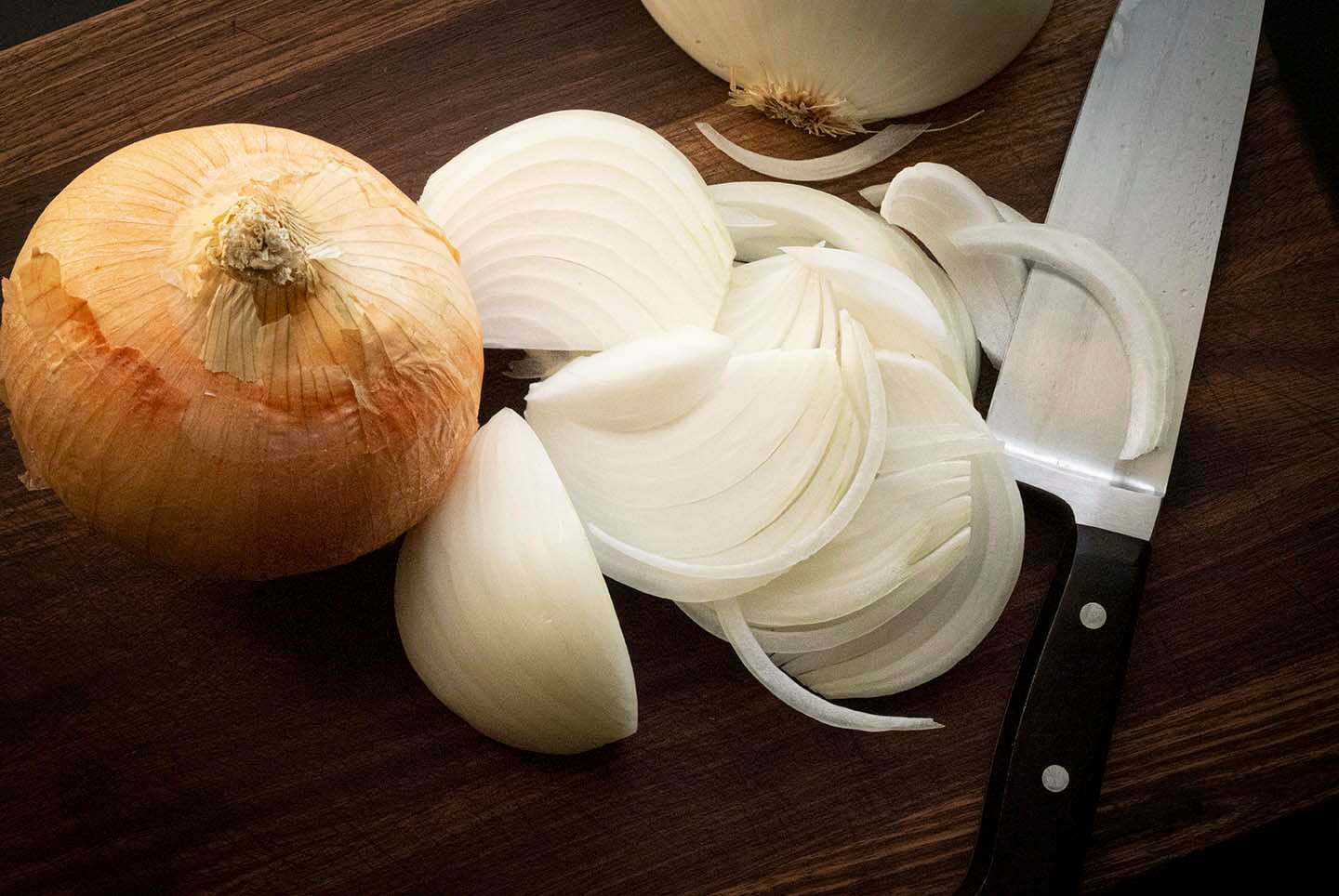 Sweet onion pudding is no different, as even the name of the main ingredient implies. When looking at recipes, I did notice that the dish has evolved over the years. Some say it originates from Wales, while others point to Scotland or Austria. The earliest recipes treated the pudding more like a pie, with the onions cooked in pastry. This is how an 1890s article in the Dallas Morning News presented the dish.
In the late 1920s, however, it evolved more into the dish that is served today. This rendition creates a base from eggs and milk and blends it with slowly cooked sweet onions. The casserole is then baked until the filling is set. After it cools, it's sliced and served.
Some add cheese and others throw in herbs. Dallas chef Dean Fearing has even been known to stir in a hearty pour of bourbon. For mine, I've followed a simple yet elegant approach that cookbook author Richard Olney, Southern Living, and Food 52 all touted, which blends caramelized sweet onions with a simple base. Lemon juice, nutmeg, and thyme boost the savory-sweet nature of the onions while still allowing them to shine.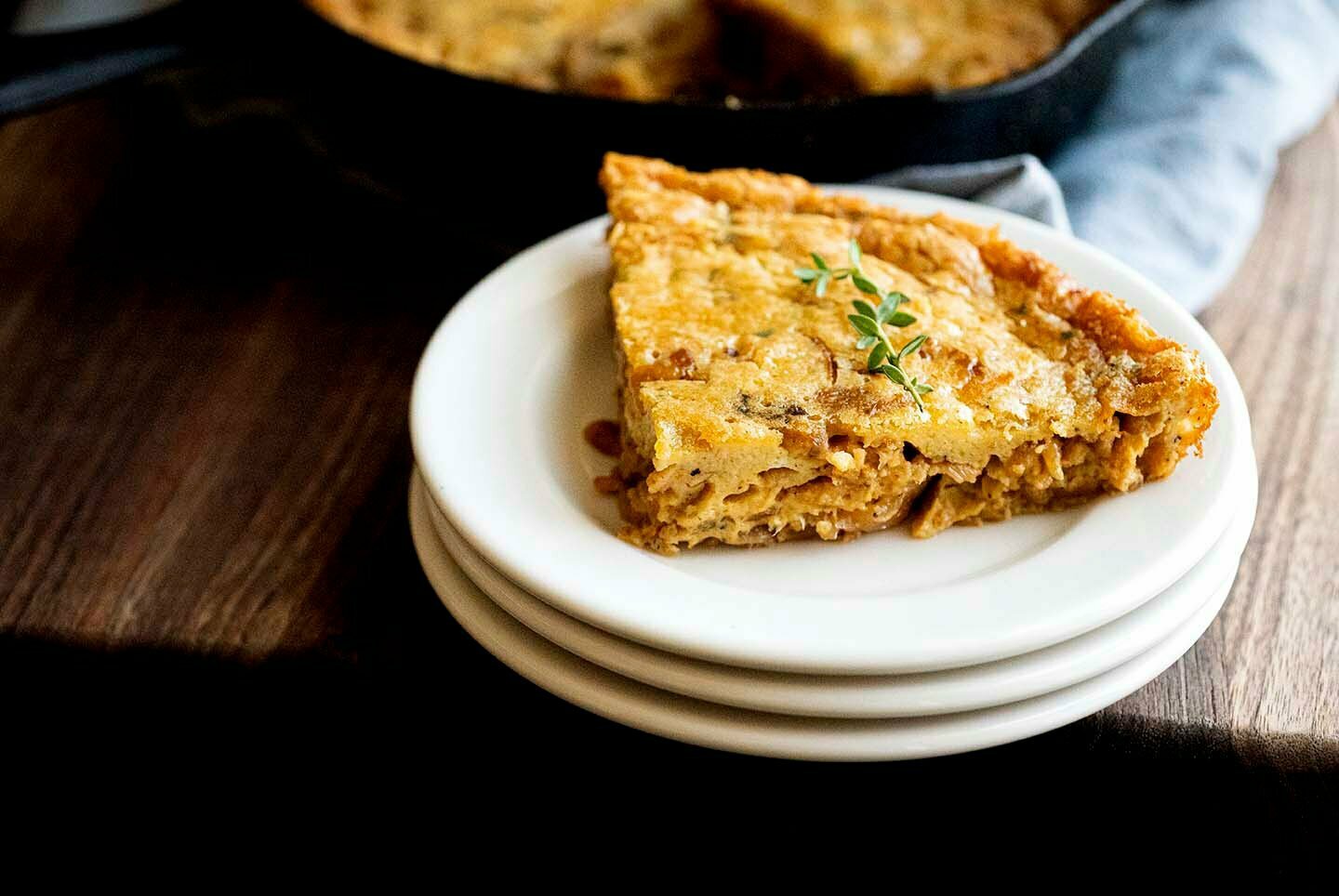 You can keep it unadorned or you can garnish it with fresh thyme or other herbs such as chives, rosemary, or even edible flowers such as nasturtiums. Sweet onions, however, are delicate, and with the richness of the pudding, I find that letting it remain minimal is my preferred way. And when you combine butter, onions, eggs, and milk you have a simple yet elegant dish that is a rich and lovely salute to spring.
—————
Would you like more Homesick Texan? Well, I've started offering additional recipes for paid subscribers to help with the costs of running the site. While I'm not taking anything away, if you'd like to support Homesick Texan and have access to exclusive, never-seen-before subscriber-only posts, please consider becoming a member; annual subscriptions are as low as $25. Thank you for reading, your consideration, and your support!
—————
Texas sweet onion pudding
Ingredients
1 ½

pounds

Texas sweet onions such as 1015 or Noonday

2

tablespoons

unsalted butter

2

cloves

garlic, minced

2

tablespoons

freshly squeezed lemon juice

3

large eggs

1

cup

light cream

1

tablespoon

all-purpose flour

½

teaspoon

kosher salt

1/4

teaspoon

black pepper

Pinch

nutmeg

Pinch

cayenne

1

teaspoon

fresh thyme leaves

Thyme sprigs, for garnishing
Instructions
Peel the onions and cut them into slivers. Melt the butter in a large skillet on medium-low heat, then add the onions to the skillet. While occasionally stirring, cook until reduced and browned, about 40 minutes.

Stir in the garlic, and cook for another minute, then stir in the lemon juice. Add salt to taste. Remove from the heat and allow to cool for at least 10 minutes. (The onions can also be made ahead and kept for 3 days in the refrigerator until ready to use.)

Preheat the oven to 350°F and lightly grease a 6-inch cast-iron skillet or an 8-inch square baking dish.

To make the pudding, whisk together the eggs, cream, flour, salt, pepper, nutmeg, cayenne, and thyme until well blended. Stir in the cooked onions then pour the mixture into the prepared baking dish.

Bake uncovered for 35-40 minutes or until lightly browned and an inserted knife in the center comes out clean. Garnish, if you like, with additional fresh thyme leaves. Allow to rest for 10 minutes before serving.
Notes
This recipe can easily be doubled and baked in a 10-inch cast-iron skillet or a 9x13 pan. You may have to increase the baking time by 5-10 minutes. You may also need to divide the onions for caramelizing between 2 skillets if your largest one can't contain all of them.