Apple cider doughnut muffins
When I lived in New York City, I noticed that when the leaves began to change and the temperatures required a jacket, the farmer's markets started offering hot apple cider and fresh apple cider doughnuts.
As the nickname for the city implies, New York is prime apple-growing country, and many of the local farmers have orchards on their land. Beginning in September, the abundance of apples is an welcome transition from summer to fall.
While there are many different ways to enjoy a fresh, juicy apple, the cider and doughnuts (or apple cider donuts, if you prefer) were on offer because the farmers have so many to sell. Juice and pastries are a simple way to use apples that are bruised or had sat on the ground too long. They still taste good but were less than exceptional in the looks department.
Now that I'm back in Dallas, I realize that people don't associate Texas with apples as much as the Northwest and the Northeast. But this is odd to me as I grew up with my family growing apple trees on their Collin Country land.
While our apples may not be as renowned as its peaches or pecans, during the season, a Texas apple is just as sweet, crisp, and juicy as its Northern counterparts.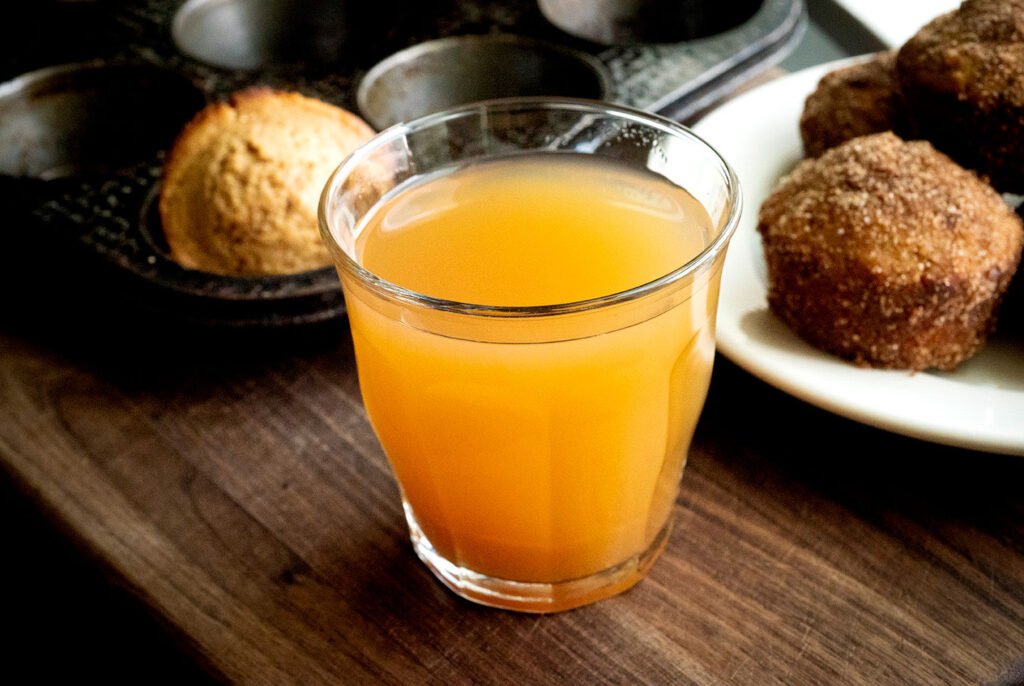 That said, even when apples are on display at my Dallas farmer's market, I have missed the scent of fresh cider brewing and the proposition of a tender, moist doughnut rich with the flavor of slowly cooked apples.
Perhaps it's a lack of overage that keeps Texans from embracing these fall treats, but even preparing these items with fresh apples is worth the investment, especially the doughnuts. (And if you have leftover apple cider doughnuts, you can make this Danish apple cake.)
Now, I've never fried up a batch of doughnuts (though I'm good with cooking fried pies and sopapillas, so I reckon it's only a matter of time). That said, when I came across baked apple cider doughnut muffins in a magazine called New England Today, I was eager to try the recipe.
The batter is a simple quick bread, and it gets its flavor from reduced cider along with warm spices such as vanilla, cinnamon, and nutmeg. Outside the Northeast, finding cider may be a challenge, but its main distinction from apple juice is that it's typically fresh and hasn't been filtered.
While some may associate cider with the fizzy alcoholic beverage also made from apples known as hard cider, fresh cider is not intoxicating. That said, while you can use a hard cider if you can't find regular apple cider, the more widely unavailable unfiltered apple juice would make a better substitute.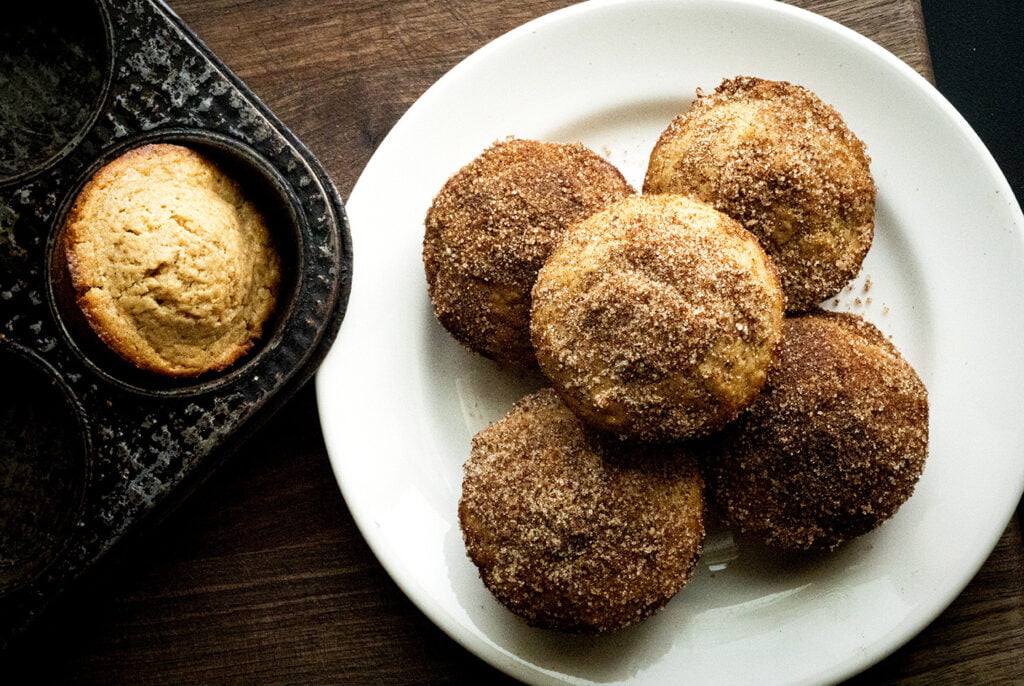 After baking the muffins, you then coat them with melted butter and then roll them in a blend of cinnamon and sugar. This final flourish gives them that welcoming sweet crunch and is one of the keys as to why they're so good. And the muffin, which sometimes is called an apple cider donut muffin, itself is a gently spiced tender cake. It's a cheerful fall day in each bite.
—————
Would you like more Homesick Texan? Well, I've started offering additional recipes for paid subscribers to help with the costs of running the site. While I'm not taking anything away, if you'd like to support Homesick Texan and have access to exclusive, never-seen-before subscriber-only posts, please consider becoming a member; annual subscriptions are as low as $25. Thank you for reading, your consideration, and your support!
—————
Apple cider doughnut muffins
Ingredients
For the muffins:
2

cups

apple cider or unfiltered apple juice

2 ¼

cups

all-purpose flour

1

tablespoon

corn starch

1

teaspoon

baking powder

½

teaspoon

baking soda

2

teaspoons

ground cinnamon

2

teaspoons

ground nutmeg

1

teaspoon

kosher salt

1

stick (1/2 cup) unsalted butter, room temperature

½

cup

granulated sugar

¼

cup

light brown sugar

1

tablespoon

vanilla extract

1

large egg
For the topping:
¾

cup

granulated sugar

3

tablespoons

ground cinnamon

6

tablespoons

unsalted butter, melted
Instructions
Preheat the oven to 375°F and grease a 12-cup muffin pan.

Pour the apple cider into a saucepan and bring to a boil on high. Continue to boil until reduced in half, about 10 minutes. Remove from the heat and allow to cool.

In a mixing bowl, stir together until well blended the flour, corn starch, baking powder, baking soda, cinnamon, nutmeg, and salt.

In another mixing bowl, cream together the butter, granulated sugar, and brown sugar until well blended. Stir in the vanilla extract and egg, then pour in the reduced cider and blend until everything is well combined.

Pour the flour mixture into the liquid, and stir several strokes until everything is just blended, but do not over-mix the batter or the muffins may turn out tough.

Spoon the batter into the prepared muffin tin, filling each cup until ¾ full. Bake uncovered for 15-17 minutes, or until the tops are lightly browned and an inserted knife comes out clean. Allow to cool for 10 minutes.

For the topping, stir together the sugar and cinnamon. Once the muffins have cooled, brush each all over with the melted butter, then roll in the cinnamon-sugar mixture until well coated. Will keep covered for 3 days.