I used to be scared of chiles en nogada. Not to eat them—heck, I'd devour this dish anytime it was on offer. But making chiles en nogada seemed like a very frightening proposition. I'd read stories about people spending days soaking the fruit for the piccadillo filling. I'd hear tales about how difficult it was to peel the walnuts for the sauce. And I'd see people argue about how one's interpretation of chiles en nogada wasn't nearly as authentic as another's version of the dish. It was enough to put me off from ever making it.
If you're not familiar with chiles en nogada, it's a stuffed pepper Mexican dish traditionally served in late August and early September that's said to have been created by Pueblan nuns back in the 1820s. The dish is comprised of a poblano chile that's filled with a sweet and savory pork picadillo that's studded with nuts, in-season fruits and dried fruits as well. And then the filled chile pepper is draped in an elegant walnut-cream sauce and garnished with pomegranate seeds that sparkle like rubies.
Because of the dish's seasonality, gorgeous presentation and its Mexican-flag color scheme of red, green and white, it's the traditional dish served on Mexico's Independence Day, September 16 or as its known in Spanish, Diez y Seis de Septiembre. And this year's celebration marks Mexico's bicentennial, which means it's a very big day.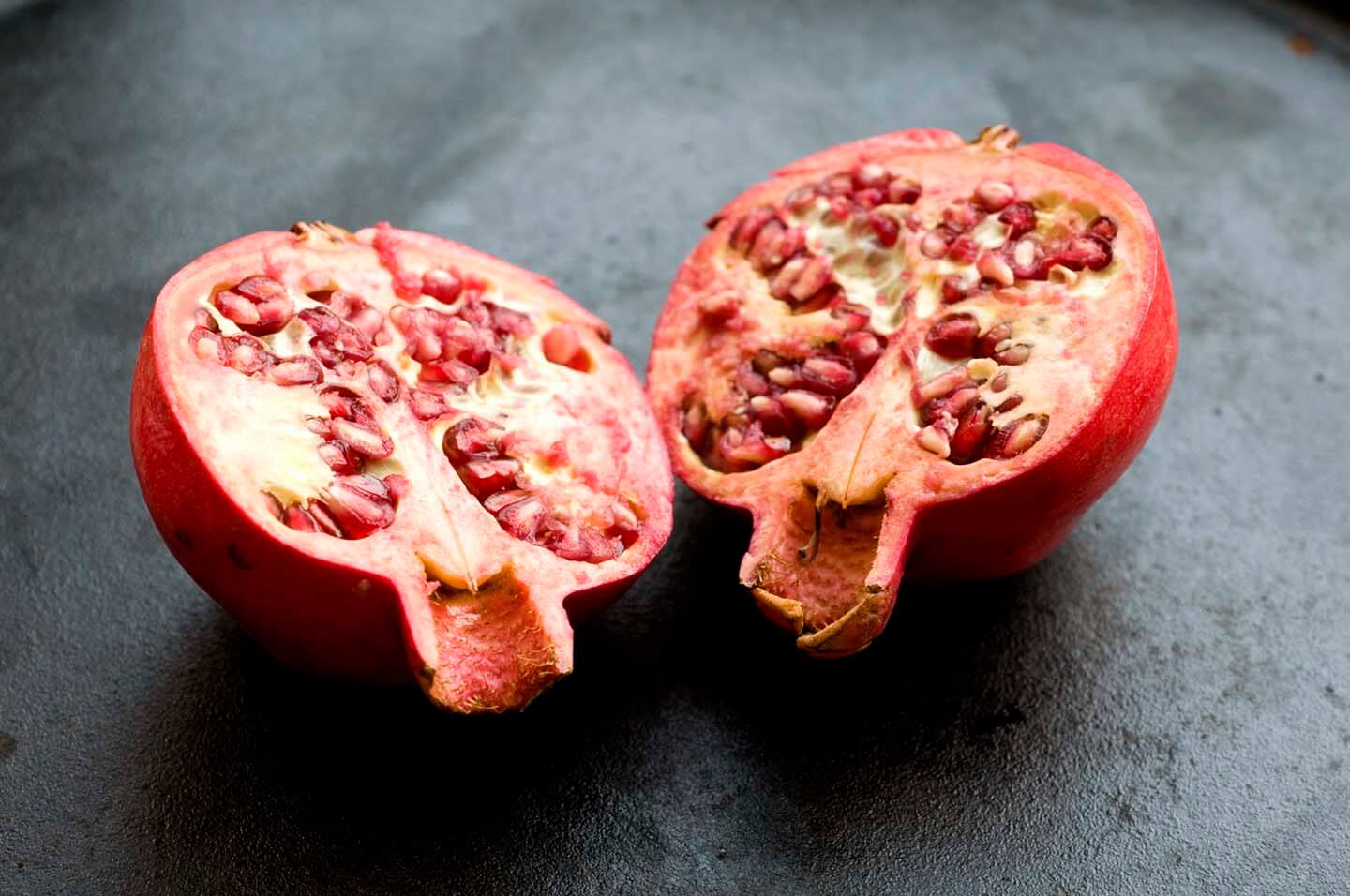 Even though Texas successfully fought for its own independence from Mexico, we were once a part of this splendid country and so I definitely plan on celebrating this momentous holiday. And, well, because a bicentennial is quite an anniversary, I decided it was time to take a stab at Mexico's national dish.

Now, let me preface by saying that my version of chiles en nogada, which was adapted from a Zarela Martinez recipe, takes very little time, which I think is a good thing although others may argue that it's too simple. But I don't mind, as my picadillo is flavorful, my walnut sauce is creamy and the ripe pomegranate seeds glisten and pop. And if you're busy, you can get this version on the table in about an hour.
I wish I were going to be in Mexico on September 16 as I reckon it's going to be a fine, fine party. But since I can't be there, I will at least be there in spirit with plates of chiles en nogada on the table—a wonderful way to mark Mexico's 200 years.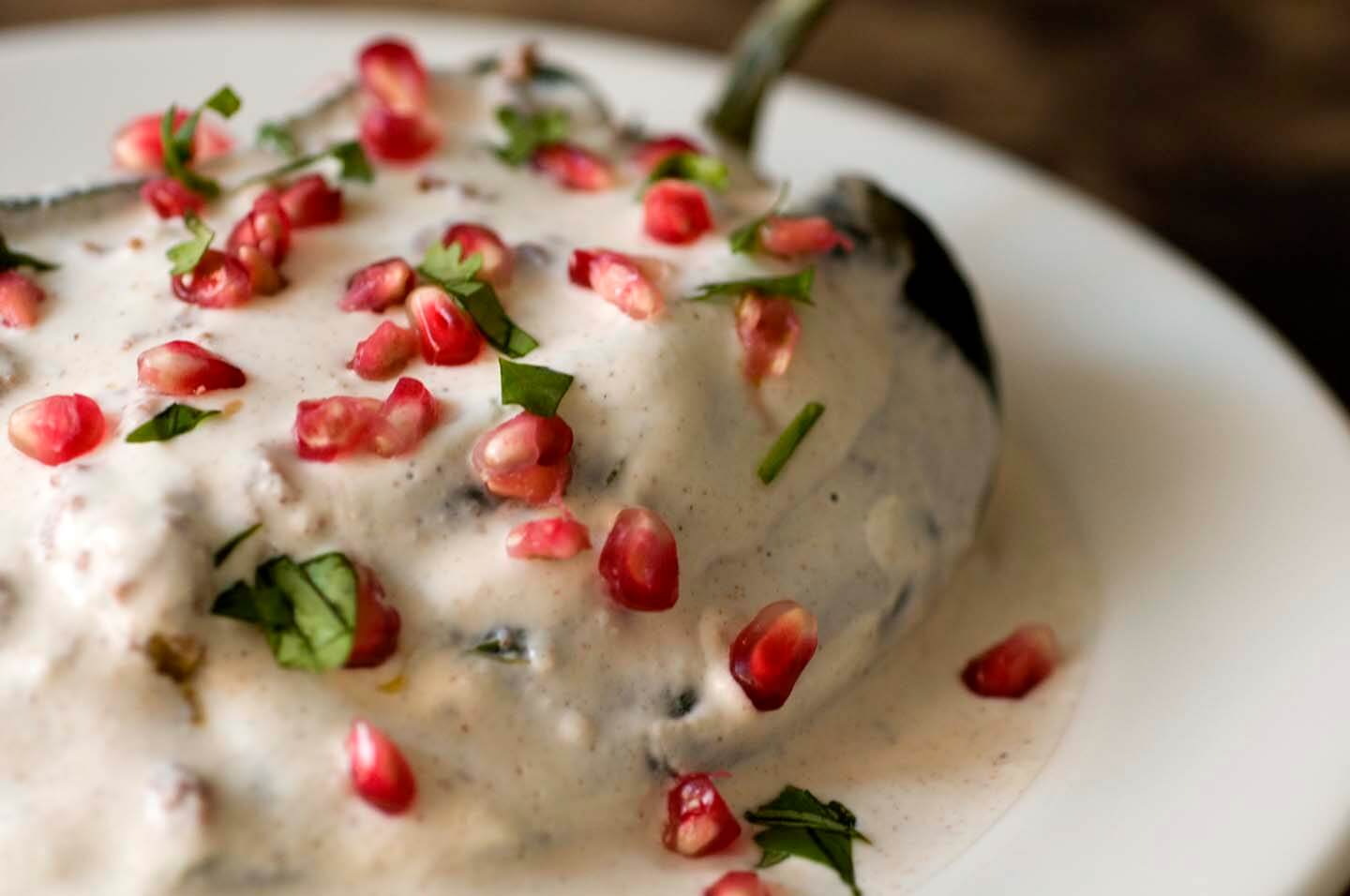 Are you having a Diez y Seis celebration? What are your plans? And if you make chiles en nogada, please feel free to share how you make this stupendous dish!
Chiles en nogada (Stuffed chile peppers in a walnut sauce)
Ingredients
For the chiles:
4

medium-sized poblano chiles

2

teaspoons

lard or vegetable oil

1/2

pound

ground pork

1/4

medium yellow onion, diced

2

cloves

garlic, minced

1/2

teaspoon

ground cinnamon

1/4

teaspoon

dried oregano

1/4

teaspoon

dried thyme

1/4

teaspoon

ground allspice

1

Roma tomato, cored and chopped (or 1/4 cup canned crushed tomatoes, drained)

1

medium green apple, such as Granny Smith, peeled, cored and chopped

1/4

cup

raisins, chopped

1/4

dried apricots, chopped

1/4

cup

chopped pecans

Salt and black pepper to taste
For the walnut sauce:
1/2

cup

chopped raw walnuts

1/2

cup

sour cream

4

ounces

cream cheese, room temperature

1/4

teaspoon

cinnamon

1/4

teaspoon

salt

1/4

cup

milk, plus more if desired
For serving:
Seeds from 1 ripe pomegranate

Chopped cilantro
Instructions
Roast the poblano chiles under the broiler until blackened, about 5 minutes per side. Place chile in a paper sack or plastic food-storage bag, close it tight and let the chile steam for 20 minutes.

While the chiles are steaming, in a large skillet, on medium, heat up the fat and then add the ground pork. Cook until lightly browned (about 5 minutes) and then add the onions. Cook until the onions are translucent, about 2-3 minutes and then stir in the garlic, cinnamon, oregano, thyme and allspice. Add the chopped tomato, apple, raisins, dried apricots and pecans and add salt to taste. Cook for 15 minutes, stirring occasionally. Taste and adjust seasonings.

Take the chiles out of the bag and rub off the skin. Cut a slit into each chile, lengthwise, and scoop out the seeds and pith. Stuff each chile with one fourth of the picadillo filling.

To make the sauce, place the walnuts in an oven set at 350 degrees for 10 minutes. Remove the walnuts, allow them to cool and then rub them to peel off the skin. (Even though it's traditional to completely peel the walnuts, I wouldn't stress too much if bits of skin stay on the nuts.) Place the walnuts in a blender along with the sour cream, cream cheese and milk and blend until a smooth, slightly thick sauce forms. Add the cinnamon and salt to taste. If you prefer a thinner sauce, add more milk.

To serve, place a stuffed chile on each plate and pour over it some of the walnut sauce. Sprinkle with pomegranate seeds and cilantro for garnish.

Serve at room temperature.
Notes
It's traditional to add peaches, pears, bananas, potatoes and candied citrus dried fruits to their filling, as well, but to save time I did not. Other variations: For the picadillo, some use shredded pork, while others use ground beef; for the sauce, some people add sherry while others add Worcestershire; and finally, some believe that the chile should be battered and fried.