A few years ago, I was enjoying breakfast tacos at Pete's in San Antonio and I spotted a sign advertising fideo loco.
In Tex-Mex, when an item is qualified with the phrase crazy or loco, it means that the basic dish has been enhanced with more than the usual toppings. For instance, a taco loco will be stuffed with every meat available. And in the case of crazy nachos, beyond fried corn tortillas, beans, and cheese, there's also taco meat, guacamole, and sour cream.
Fideo loco, however, was new to me.
Now, I was familiar with traditional fideo, which is a beloved South Texan dish. It's made by frying broken pieces of thin pasta such as vermicelli or capellini in oil before cooking it in a tomato-based broth. It's what's known as a sopa seca, which translates to dry soup. This means that it doesn't have as much liquid as a soup, yet isn't as dry as a traditional pasta dish—instead, it falls somewhere in between.
This comforting dish is South Texas comfort food at its finest, and while it does appear as either a starter or a side at restaurants, it's also often prepared at home and served as a main course. Because ingredients are inexpensive and it takes little time to put together, it's a workhorse for busy families who need to get a meal on the table quickly. There are many ways to prepare it, but every South Texan's favorite bowl of fideo is the one they grew up eating, prepared by someone they loved.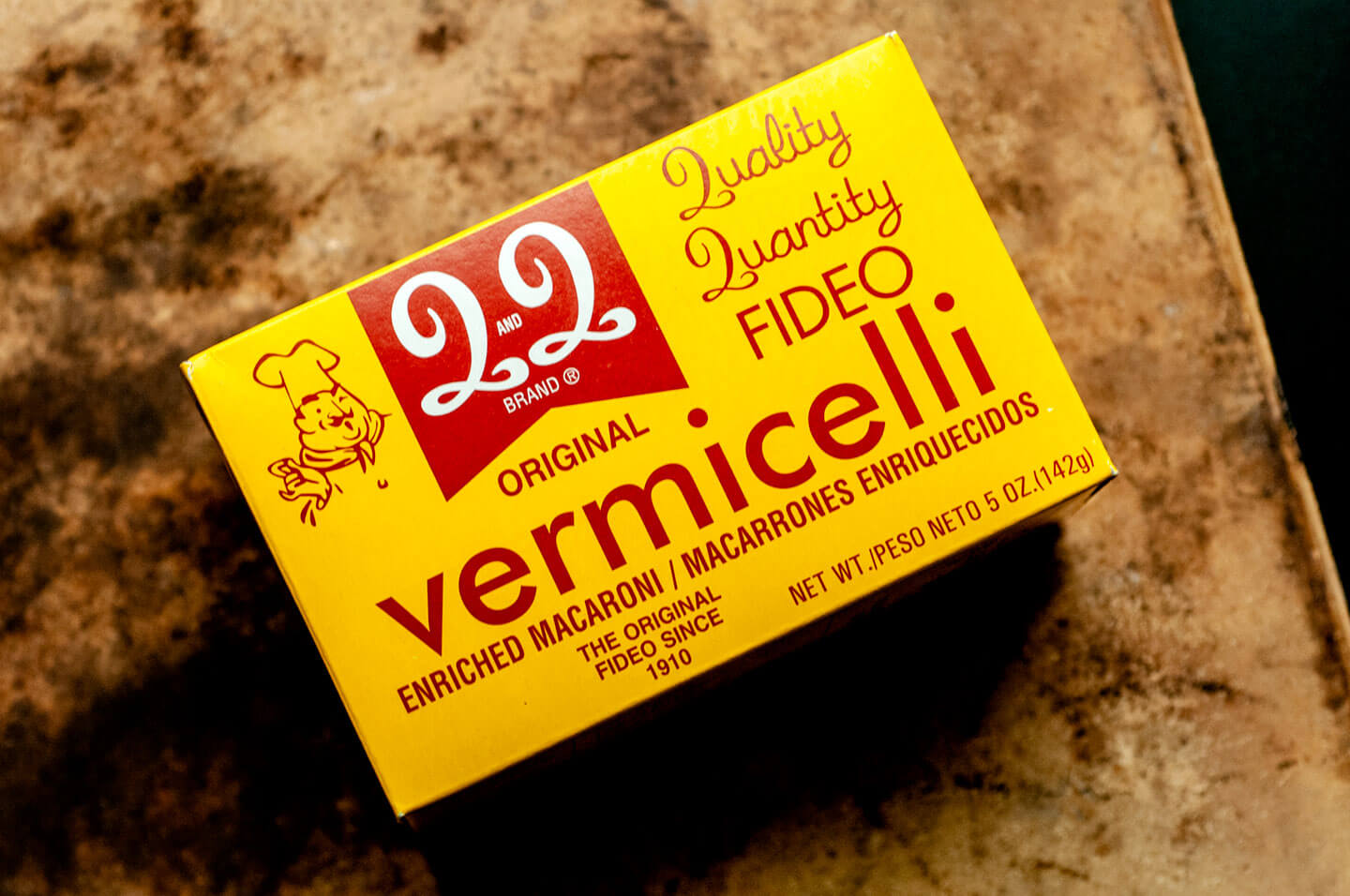 In my first book, I included my rendition of traditional fideo. It's a quick and easy meal that's especially welcome on a chilly day. But since fideo loco was new to me, I asked the waitress what was involved.
She explained that it took the foundation of South Texas fideo—the thin noodles and the tomato broth—then added pinto beans and taco meat to the mix. So, following in the tradition of other Tex-Mex dishes described as loco, it was simply the standard dish enhanced.
I ordered a bowl, and the piquant broth and noodles were livened by the beef and beans. It was filling and good, and I decided to try my own version at home.
While I learned that there are many ways to transform regular fideo into one that's loco, such as stirring in potatoes, squash, or steak, for mine I decided to stick with the simple additions of taco meat and pinto beans. I kept my beans plain, though charro or ranch style would be good, too.
Here's my take on the dish, which has a smoky, chipotle-laced tomato broth that's thick with noodles along with cumin-spiced ground beef and tender pinto beans. It's hearty, simple and makes for a fine one-pot meal. And that's not crazy at all!
—————
Would you like more Homesick Texan? Well, I've started offering additional recipes for paid subscribers to help with the costs of running the site. While I'm not taking anything away, if you'd like to support Homesick Texan and have access to exclusive, never-seen-before subscriber-only posts, please consider becoming a member; annual subscriptions are as low as $25. Thank you for reading, your consideration, and your support!
—————
Fideo loco
Ingredients
For the beef:
1

teaspoon

safflower oil

1

pound

ground beef

1/2

medium yellow onion, diced

4

cloves

garlic, minced

1

tablespoon

chili powder

1

tablespoon

ground cumin

1

teaspoon

dried oregano

Pinch

cayenne

1/2

teaspoon

kosher salt

1/2

cup

chopped cilantro
For the fideo:
1/2

medium yellow onion, diced

4

cloves

garlic, minced

1

(15-ounce) can diced tomatoes

2

chipotle chiles en adobo

1

tablespoon

chili powder

1

tablespoon

ground cumin

1/2

teaspoon

kosher salt

5

cups

water

1

tablespoon

safflower oil

4

ounces

thin noodles such as vermicelli or capellini, broken into 1-inch pieces

1

tablespoon

lime juice

1/2

cup

chopped cilantro

Crumbled Cotija cheese, for serving
Instructions
In a Dutch oven, heat the oil on medium-low and add the beef and onion. While occasionally stirring, cook until the onions are soft and the beef is beginning to brown, about 7 minutes. Stir in the garlic, chili powder, cumin, oregano, cayenne, salt, and cilantro and while stirring occasionally, continue to cook for 10 more minutes. Taste and adjust seasonings and then pour the beef into a mixing bowl.

Meanwhile, for the fideo, place in a blender the onion, garlic, diced tomatoes, chipotle chiles en adobo, chili powder, cumin, and salt. Once you've moved the cooked meat from the pot, add the water to the pot and swirl around while scraping the bottom to get all the remaining bits. Add the water to the blender and then blend until smooth.

Add the oil to the pot and pasta. While occasionally stirring, cook on medium for 1 minute or until lightly browned and fragrant. Pour the tomato sauce from the blender into the pot. While stirring occasionally, cook on medium until the pasta is softened, about 10 minutes.

Add the beans to the pot along with the cooked meat. Stir in the lime juice and cilantro. Taste and adjust seasonings. Serve warm topped with Cotija cheese and with tortillas on the side, if you like.
Notes
I prefer mine on the thicker side though if you want a soupier dish, feel free to add more water or broth.