In 1982, Peggy Shoop, a resident of Grapevine, Texas, adapted a dish that transformed the history of party food. She took a recipe for a dip she found in Southern Living that layered sour cream, guacamole, salsa, and cheese, and added her own additions—refried beans and jalapeños. A classic was born.
Her dip had seven layers but she still called it six-layer dip, which was the same name as the Southern Living appetizer. Misnomer aside, Shoop's contribution of refried beans has since become layer-dip canon.
Sure, others may have also had this idea, but I give her and the eaters of Dallas the credit for what became the standard in this Tex-Mex favorite, since even the 1981 Southern Living recipe that inspired hers was submitted by a Dallasite, Janet Revels. Clearly, composed dips of multiple ingredients were already a thing in North Texas in the early 1980s.
Before making this claim, however, I searched for citations that showed layered dips were popular elsewhere, but all evidence points to Dallas as the origin. Whether this is fact has been lost to the ages, or at least in a stack of Texas community cookbooks that no one has had the time to pour through yet. But looking at magazines, newspapers, and a few cookbooks, the sources show Shoop and Revels as the first to share this creation in a publication, no matter if another invented it prior.
These days, layer dip, whether it's known as five-layer dip, six-layer dip, seven-layer dip, nine-layer dip, or Mexican-layer dip, is a well-known addition to the party table, not only in Texas but nationwide. As the name implies, it's indeed a stack of dips, which typically includes a base of refried beans (or bean dip), and then proceeds with guacamole, sour cream, salsa, tomatoes, jalapeños, green onions, shredded cheese, and black olives, among the most common ingredients.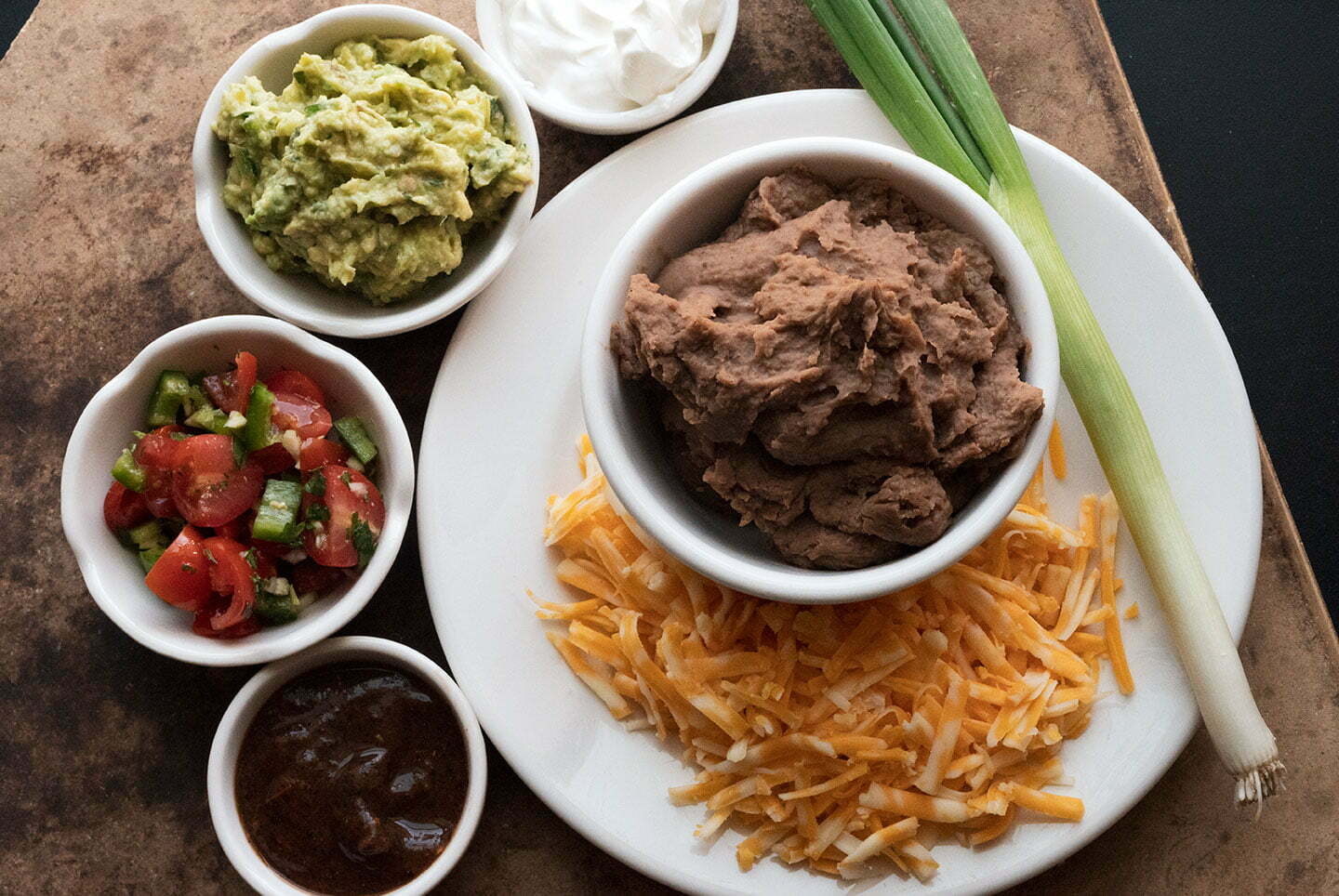 Other popular additions are taco meat, pico de gallo, crushed tortilla chips, and queso. Though sometimes people plop so many different levels into one vessel that the dip becomes something of a mess, much like sloppy nachos. A tortilla chip can only handle so much!
That said, while the original dip was perhaps not elegant, it was a bit more refined. Shoop's version appeared to be a way to elevate a simple bean dip into something more festive. And when you keep the layering to a respectable level, each scoop of your chip allows you to savor the individual flavors. Too many components not only bog down the chip but also get lost in the chaotic stack. With a layered dip, less is more.
Here's my take on the original, for which I used ingredients from both the Shoop and the Revels renditions. One thing I do differently is combine the jalapeños with diced tomatoes to make a pico, and while Shoop eschewed the black olives, I've kept them as I like the contrast.
Likewise, for the guacamole, both Shoop and Revels stirred in mayonnaise (which is something my Dallas family has also been known to do), though I omitted that old-fashioned guacamole hack.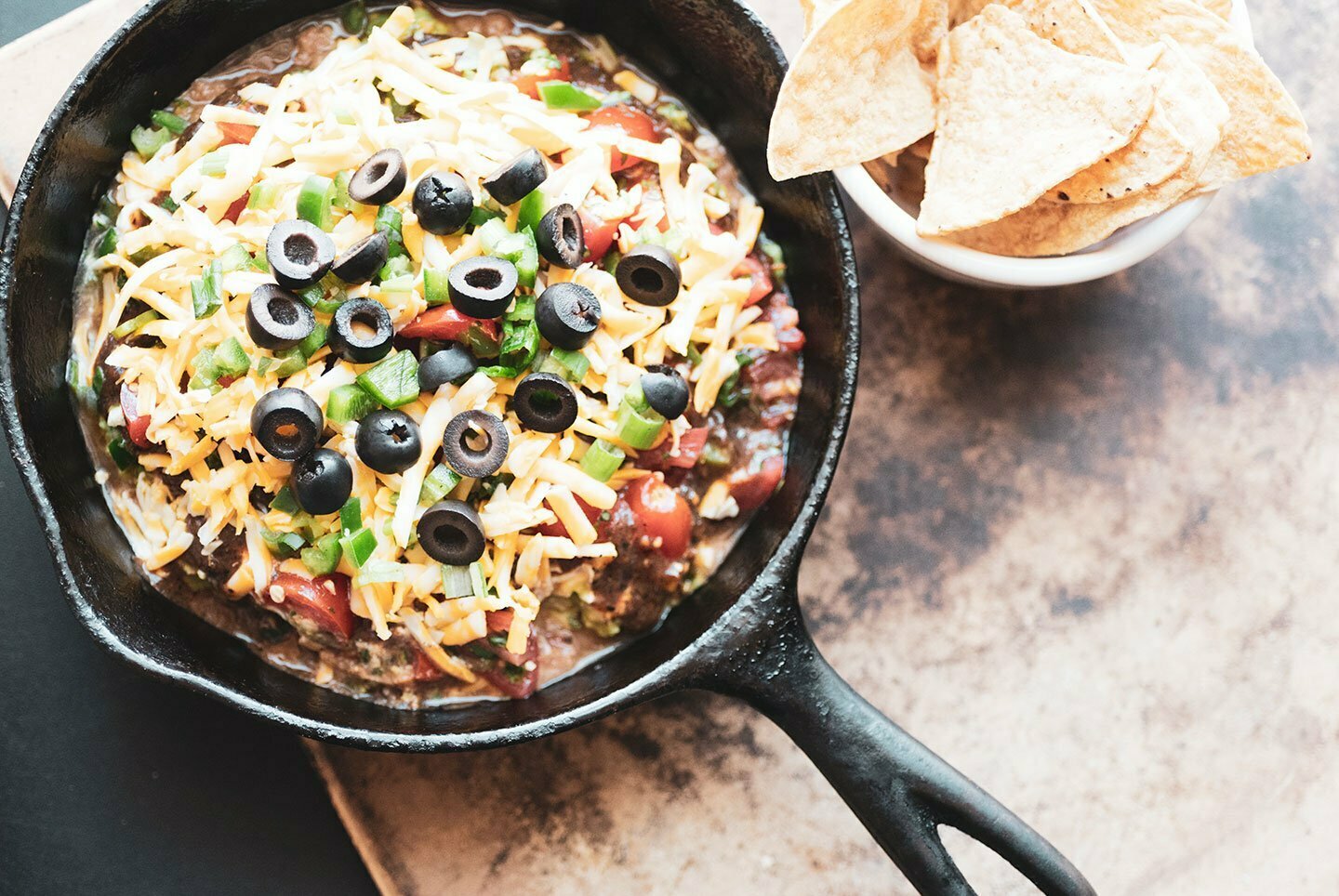 While I have found that both the beans and the sour cream prevent the guacamole from turning dark, this is a dip that needs to be eaten immediately. Serve with hearty tortilla chips.
And when you scoop your chip into the creamy, zesty, and hearty layers of this Tex-Mex classic, say thank you to Peggy Shoop whose addition of refried beans and jalapeños to the original mark her as a snack-food hero and pioneer.
—————
Would you like more Homesick Texan? Well, I've started offering additional recipes for paid subscribers to help with the costs of running the site. While I'm not taking anything away, if you'd like to support Homesick Texan and have access to exclusive, never-seen-before subscriber-only posts, please consider becoming a member; annual subscriptions are as low as $25. Thank you for reading, your consideration, and your support!
—————
Seven-layer dip
Ingredients
For the guacamole:
2

avocados, pitted and peeled

2

cloves

garlic, minced

1

jalapeño, seeded, stemmed, and diced

2

tablespoons

chopped cilantro

2

tablespoons

freshly squeezed lime juice

1/2

teaspoon

kosher salt
For the pico:
½

cup

grape tomatoes, diced

2

cloves

garlic, minced

1

jalapeño, seeded and stemmed

2

tablespoons

chopped cilantro

½

teaspoon

kosher salt

¼

teaspoon

ground cumin
For the remaining layers of the dip:
1

cup

(8 ounces) sour cream

½

cup

salsa

2

cups

(8 ounces) shredded Colby-Jack cheese

2

green onions, chopped, green part only

8-

ounces

sliced canned black olives, drained

Tortilla chips, for serving
Instructions
If your beans are cold, bring them to room temperature. Otherwise, stir in the chili powder then taste the beans and add salt.

For the guacamole, in a small bowl mash the avocados with the garlic, jalapeño, cilantro, lime juice, and salt. Taste and add more salt if desired.

For the pico, stir together the tomatoes, garlic, jalapeño, cilantro, salt, and cumin. Taste and adjust seasonings if desired.

To assemble the dip, take a 9-inch baking dish or skillet and spread along the bottom the refried beans. Evenly spread on top of the beans the guacamole. Evenly spread on top of the guacamole the sour cream.

Evenly pour on top of the sour cream the salsa. Evenly spoon on top of the salsa the pico de gallo. Sprinkle on top of the pico the shredded cheese. Last, add the green onions and then the black olives.

Serve immediately with tortilla chips. You can also keep covered in the refrigerator for several hours before serving, if you prefer, though it's best fresh.
Notes
Can I substitute Cheddar cheese and Monterey Jack cheese for the Colby Jack? Yes you can, use 1 cup of each. 
Can you freeze seven-layer dip? No, it will not freeze very well. 
I have ripe roma tomatoes, can I use that instead? Yes, I'd use 1 ripe tomato.