Like chili, gumbo has many rules, with most folks believing that their way of making this stew is the best. As I'm not a native of Cajun country, I tend to follow my friends' leads when making gumbo, though even amongst that group I'll see variations.
For instance, I have one friend who eschews celery in his gumbo, though another friend swears that without it the pot will never be authentic. Though this celery-loving friend can't abide by okra in his chicken and sausage gumbo, even though an African word for that vegetable, ki ngombo, is what some say gives gumbo its name!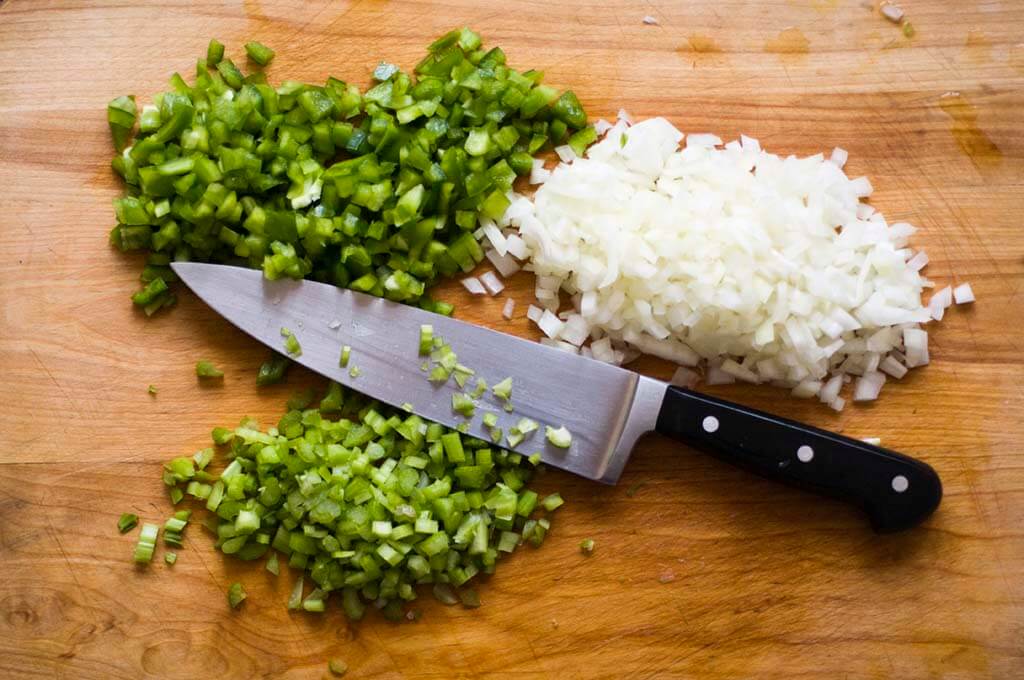 Most of my friends do concur that tomatoes have no place in gumbo, though there are still a few who believe pouring in a can of Ro-Tel certainly won't hurt. Then there are those that believe potato salad instead of rice is the better starch to add to your bowl, an affectation that seems strange at first but after a few bites you might wonder why you haven't been serving it this way all along.
I could go on about the endless variations, but let's jump to why I'm here—to talk about turkey gumbo, a time-honored day-after-Thanksgiving dish in East Texas and Louisiana, of course.
As the name implies, turkey gumbo is made with turkey. First you take the carcass and boil it up with some aromatics for a fragrant broth, and then you slide into the pot your roux, along with some vegetables, chopped leftover turkey, and leftover ham. (Though if you're not the type to serve ham along the turkey on Thanksgiving, sliced smoky sausage such as kielbasa or andouille is a terrific thing to add, as well.)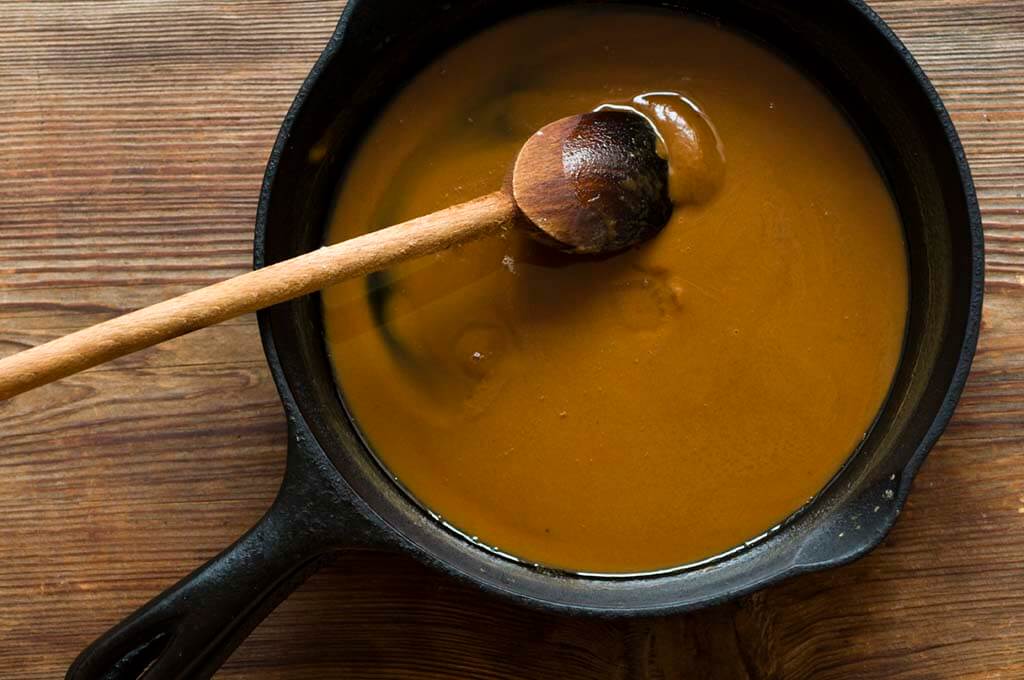 You let this cook for an hour or so (though it only gets better the longer it stays on top of the flame; likewise, it's also much better the next day), ladle it into bowls filled with rice, and then dig into an agreeable stew that bears little resemblance to the feast you had the day before.
And this is why I think that turkey gumbo is so popular. While there's nothing finer than a turkey, cranberry, and dressing sandwich the day after Thanksgiving, if you're like me and have been thinking about Thanksgiving almost non-stop for the weeks leading up to the big feast, you just might be suffering a bit of Thanksgiving-food fatigue by Friday, and are ready to move onto something else.
That said, you probably still have a refrigerator groaning with Thanksgiving odds and ends that need to be eaten. Though if you make a pot of turkey gumbo with all that remains, you'll not only have a satisfying good meal but also a dish that makes leftovers taste like something new.
Now I offer you a recipe, but in the spirit of all things gumbo, take this more as a guide than a directive. If you don't like okra, don't add it to the pot! If you want to serve this with sweet potato salad, go right ahead, I don't think anyone will mind. After all, when it comes to gumbo no two pots are the same. Though there is one thing that most people will agree upon—when it's chilly outside and you want something warm, gumbo is very, very good.
Turkey gumbo
Ingredients
Ingredients for the turkey broth:
Turkey bones

2

ribs celery

2

carrots, peeled

1

medium yellow onion, cut in half

2

bay leaves

1

teaspoon

peppercorns

4

whole cloves
Ingredients for the gumbo:
3/4

cup

all-purpose flour

3/4

cup

vegetable oil

2

tablespoons

butter

1

large bell pepper, seeded and diced

2

ribs celery, diced

1

medium yellow onion, diced

8

okra, stemmed and sliced

4

cloves

garlic, minced

8

cups

turkey broth or chicken broth (if not making your own broth)

2-3

cups

chopped cooked turkey

2-3

cups

diced ham or sliced smoked sausage, such as kielbasa or andouille

1/4

cup

chopped parsley

2

tablespoons

Worcestershire sauce

1

tablespoon

fresh thyme or 1 teaspoon dried thyme

1

tablespoon

kosher salt

1

tablespoon

black pepper

1/4

teaspoon

cayenne

4

green onions, green part only, chopped

Cooked rice, for serving
Instructions
First, to make the turkey broth place the bones in a large pot, along with the celery, carrots, onion, bay leaves, peppercorns, and cloves. Add enough water to cover the pot contents by an inch (about 12 cups), bring to a boil, and then turn the heat down to low and simmer for 1 hour.

When done, strain the broth, discarding the bones and vegetables, and then remove the fat from the broth with a gravy separator. If you don't have a separator, you can take a quart-sized plastic storage bag and pour some broth into it. Snip a bottom corner of the bag and drain the broth, stopping when you get to the fat layer that is on top. (You will probably have to remove the fat in batches).

Wipe the large pot clean of any remaining debris, then return 8 cups of broth to the pot, reserving any remaining for another use. (If using pre-made broth, skip these steps.)

Meanwhile, as the broth cooks you can make the roux. To make the roux, heat the oil on medium high in a cast-iron skillet. Start adding flour a little bit at a time. Stir continuously for 30-35 minutes until the roux is a dark praline brown. Remove from the heat.

In another skillet, melt the butter over medium-low heat. Add the onion, bell pepper, and celery, and cook until soft, about 10 minutes. Stir in the okra and cook for 5 more minutes, then add the garlic and cook for 30 more seconds. Remove from the heat.

Once the roux is done and the vegetables are done, add both to the large pot with the broth and stir until well blended with the broth. (If using store-bought broth, then you'll add it at this time instead). Also add the turkey, ham (or sausage), parsley, Worcestershire sauce, thyme, salt, pepper, and cayenne.

Bring to a boil then turn the heat down to low and simmer for at least an hour, stirring occasionally, though you can let it simmer for several hours if you prefer. Taste and adjust seasonings. Stir in the green onions and then serve over rice. Leftovers can be stored in the refrigerator for 3 days.
Notes
If using sausage, you might consider frying it in the large pot for a few minutes until it begins to brown and crisp, before adding the broth and then continue with the recipe. It's not necessary, but would add flavor. Also, this gumbo is good with both regular roasted turkey and smoked turkey.