One day my grandma mentioned my uncle was preparing a big pot of butter beans for dinner. She then asked how I liked to cook them, but I confessed they weren't something I ever cooked, let alone enjoyed. She found that odd, since I love most legumes such as pinto beans, black beans, and black-eyed peas. But I held my position and continued to insist that I was not a fan.
A few months later, I was on a trip to Florida. As we were exploring the Florida Keys, we stopped for lunch at a spot along the water that was known for its fried seafood. As we were ordering, the waitress mentioned one of the specials that day was butter beans. A friend from North Texas said she loved butter beans and placed an order. When asked if I'd want to share, I shook my head and admitted I wasn't a fan.
When the bowl of hot butter beans arrived, however, they were fragrant with ham and herbs. My friend took a bite and declared them a fine example of the dish. In fact, she enjoyed them so much she ignored the array of fried foods on the table and just focused on her bowl.
Curious, I asked if I could have a taste and she handed me a spoon. I dipped in and scooped a few beans along with the thick broth and a small piece of pork and took a bite. They were tender, savory, salty, and smoky. I asked her if butter beans were always this good, and she said when prepared properly they were.
How did I not know?
While the name butter beans is charming and promises a dish that's creamy and rich, for some reason I'd always assumed that they were as unlikable as their younger form, which goes by the name lima beans.
Now, this is an opinion that goes back to ill-prepared lima beans from childhood, in which the beans were grassy and tough. Once I learned that butter beans were lima beans that had been allowed to grow into their full, large form, I chose to avoid them, as well.
Butter beans, however, have a long heritage on the Southern table, and along with my grandmother and friend who have long been in love with them, it turns out that if you ask most people with roots in the South they will also share a butter-bean memory. Indeed, the Dallas Morning News once referred to them as the filet mignon of beans, and Georgia band the B-52s has even memorialized them in a fun, catchy song.
In Texas, they are more of a home-cooked dish than one found at restaurants, though you will occasionally see them at barbecue joints, small-town cafes, and soul food spots. Texans with roots from Southeast Asian and Latin American include them in dishes, as well. While butter beans may originally hail from Peru, it's clear they are appreciated by people from all over the world, making them a most egalitarian food. Indeed, as the B-52s once sang, "Everybody likes butterbeans!"
For mine, I cooked them as my family did and simmered them with a meaty, smoky ham hock. Since they don't take as long to soften as other dried beans, I found that using garlic and onion powders instead of fresh aromatics delivered more flavor in the shortened cooking time. A bay leaf adds an herbal touch, and black pepper as well as dashes of pepper vinegar, give the hearty, tender beans a kick.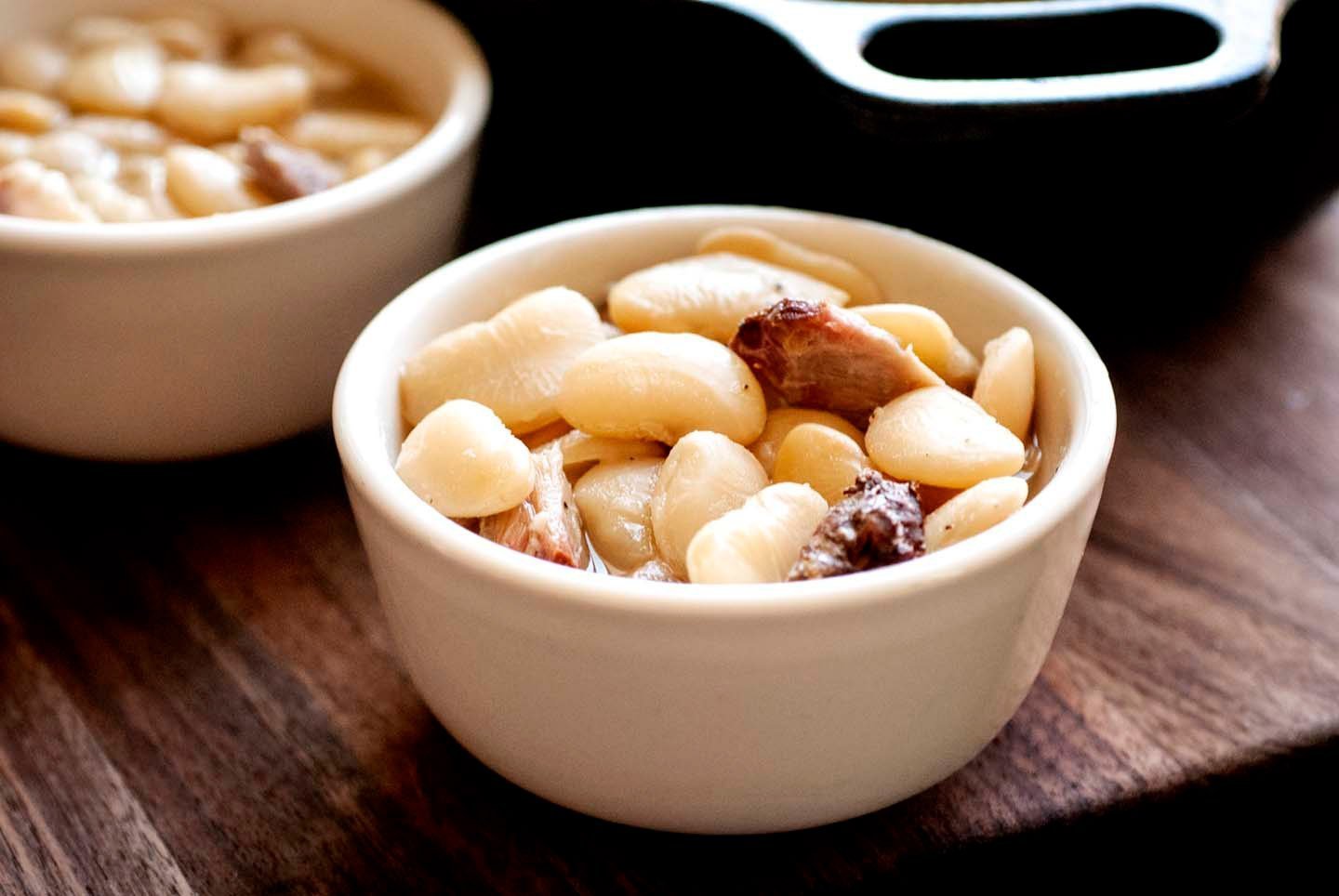 Butter beans can either be offered as a main dish or as a side. Some enjoy them over rice, though if you follow my grandmother's suggestion, you'll want a hot skillet of cornbread to go with them, too.
—————
Would you like more Homesick Texan? Well, I've started offering additional recipes for paid subscribers to help with the costs of running the site. While I'm not taking anything away, if you'd like to support Homesick Texan and have access to exclusive, never-seen-before subscriber-only posts, please consider becoming a member; annual subscriptions are as low as $25. Thank you for reading, your consideration, and your support!
—————
Texas butter beans
Ingredients
1

pound

dried butter beans (large lima beans)

1

tablespoon

kosher salt

1

teaspoon

black pepper

2

teaspoons

garlic powder

2

teaspoons

onion powder

1

bay leaf

1

smoked ham hock

1

teaspoon

pepper vinegar
Instructions
Place the butter beans in a pot. Cover with 1 inch of water and stir in the salt, pepper, garlic powder, and onion powder. Bring the pot to a boil on high, then turn off the heat and cover the pot and let it sit for 20 minutes.

Preheat the oven to 300°F.

After the beans have soaked for 20 minutes, add to the pot the bay leaf and ham hock. Cover the pot and place it in the oven and cook covered for 45 minutes. Remove the lid and continue to cook until tender, about 15-30 minutes, depending on the beans. Remove the pot from the oven.

Take the ham hock out of the pot, and remove the rind and bone, then dice the meat. Stir the meat back into the pot, then add the pepper vinegar. Taste and adjust seasoning.

Serve warm.