Fried potatoes with green chiles
When I was writing my first cookbook, I wanted to include a carnitas recipe that had been on my site. It was adapted from the late cookbook author Diana Kennedy's method, and so I reached out to her to ask permission to use the dish.
In my message to her, I shared with her the changes that I had made, such as seasoning the dish with cumin. Kennedy, an English woman who lived in Mexico, was known for not liking its earthy flavor. 
She replied to my request saying that it fine to use the adaptation of her recipe, but not to include her name with the dish as it was now different from her original. "This is your recipe," she wrote.
At the time, I wasn't sure if she was being kind. Not only did she not use cumin in her recipes, but she was also known for saying that the Tex-Mex was not her favorite cuisine because it often called for said spice.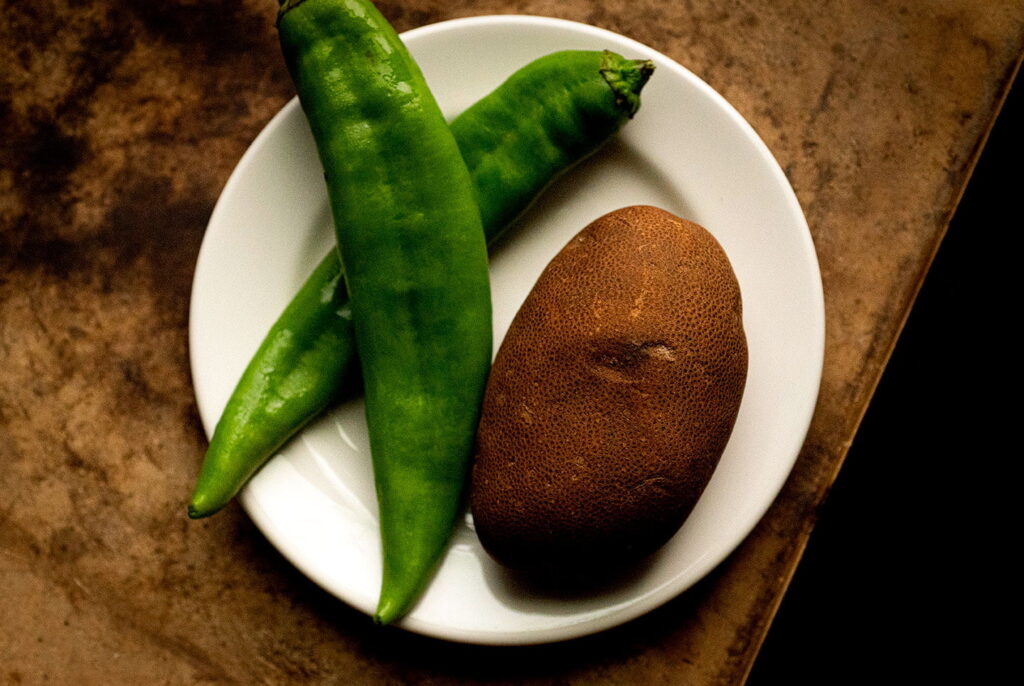 While clearly I disagree with her about Tex-Mex, which is not only one of my favorite cuisines because of its cheesy, easy comfort, but also because it's worthy of appreciation due to its lineage and history, I still respect her work. We're all entitled to our opinions.
Indeed, her first cookbook, The Cuisines of Mexico, has a place of pride on my bookshelf, and has inspired many posts on this site, such as squash blossom quesadillas, chalupas poblanas, and corn and green chile soup. My mom sent me my late grandfather's copy of the book when I was in my early 20s living in Iowa City, and I've been cooking from this book for 30 years.
It was her words that guided me as I first attempted to make tortillas, learned that chalupas are different in Mexico than in Texas, and that chile con queso didn't have to be prepared with processed cheese.
One of the recipes in that collection takes potatoes and sautés them with strips of green chiles and aromatics. It's a simple yet satisfying skillet that can also be blended with chorizo, bacon, or cheese for a more complete dish. I eat it as a side to roast meats, stirred into my scrambled eggs, as a meatless meal with beans, or stuffed into tortillas.
Her version called for poblano chiles, which I enjoy. But I also like to prepare it with long green chiles such as Hatch. Her seasoning is sparse, though I also add cumin, which I know that she would not approve. I also throw in tomatoes, which is another change, but I like the color and flavor they bring.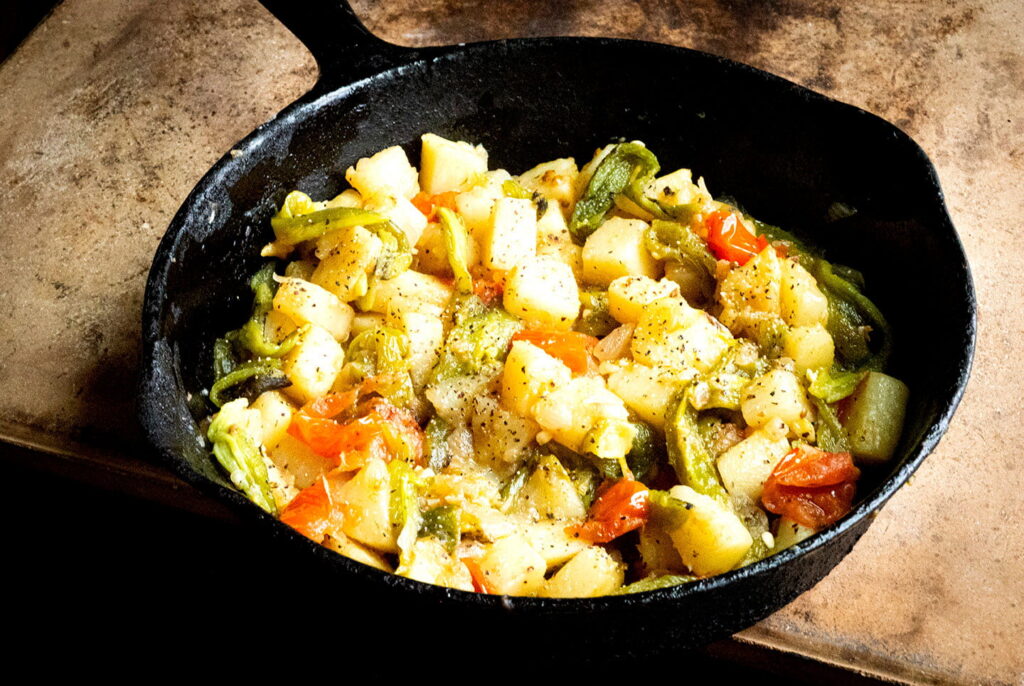 All these changes are okay, however, as I feel recipes are meant to be shared and to be shaped into what pleases the cook. She may not have agreed with that either, but I am still thankful for all the recipes she learned and then presented to the world.
—————
Would you like more Homesick Texan? Well, I've started offering additional recipes for paid subscribers to help with the costs of running the site. While I'm not taking anything away, if you'd like to support Homesick Texan and have access to exclusive, never-seen-before subscriber-only posts, please consider becoming a member; annual subscriptions are as low as $25. Thank you for reading, your consideration, and your support!
—————
Fried potatoes with green chiles
Ingredients
3

tablespoons

olive oil

½

medium onion, diced

4

cloves

garlic, minced

1

teaspoon

kosher salt

1

teaspoon

ground cumin

1/2

teaspoon

black pepper

2

pounds

Russet potatoes (2 or 3), peeled and cut into ½-inch cubes

½

cup

water

2

plum tomatoes, diced or 1/2 cup grape tomatoes, diced
Instructions
In a large skillet, heat 2 tablespoons of the oil on medium-low. Add the onions and while occasionally stirring, cook until softened and beginning to brown, about 5 minutes. Add the garlic and cook for 30 more seconds.

Stir in the salt, ground cumin, and pepper, then add the potatoes. Stir the potatoes until well combined with the onions and garlic.

Pour the water into the skillet, then cover. Cook the potatoes covered for 10 minutes.

After 10 minutes, remove the lid. While occasionally stirring, continue cooking the potatoes until the water is reduced, about 5 minutes. Stir in the remaining tablespoon of oil and then add the green chile strips and tomatoes.

While occasionally stirring, continue to cook until the potatoes are beginning to crisp and the tomatoes are softened, about 5 minutes. Taste and adjust seasonings if desired. Serve warm.