Jalapeño cheddar biscuits
Everyone in my family has a special dish that we share whenever we visit each other. For instance, at Thanksgiving you'll find my uncle Richard standing by the blender whirring up batches of his classic salsa. At Christmas, my Uncle Austin can be found handing out bags of his addictive granola. If you're celebrating a birthday, then chances are my grandma is baking you a chocolate pie. And me? My specialty is biscuits.
While I've made biscuits since I was a teenager, it wasn't until a visit to my grandparents almost 10 years ago that my grandma decided I would become chief biscuit maker of the family. I was there to help out with my grandpa, who had been ill. Because she'd been busy taking care of him, my grandma hadn't had the time to devote to making biscuits from scratch and was using canned ones instead. On that trip, when I presented them with a skillet of warm homemade biscuits straight from the oven it was a most welcome gift. And I've been on biscuit duty ever since.
Biscuits are not hard to make, as it's just stirring together a few ingredients and then rolling and cutting a dough. They take little time to assemble, and you can go from mixing dry ingredients to eating a hot biscuit in about half an hour or so. Even the most impatient can usually wait that long for something delicious and homemade.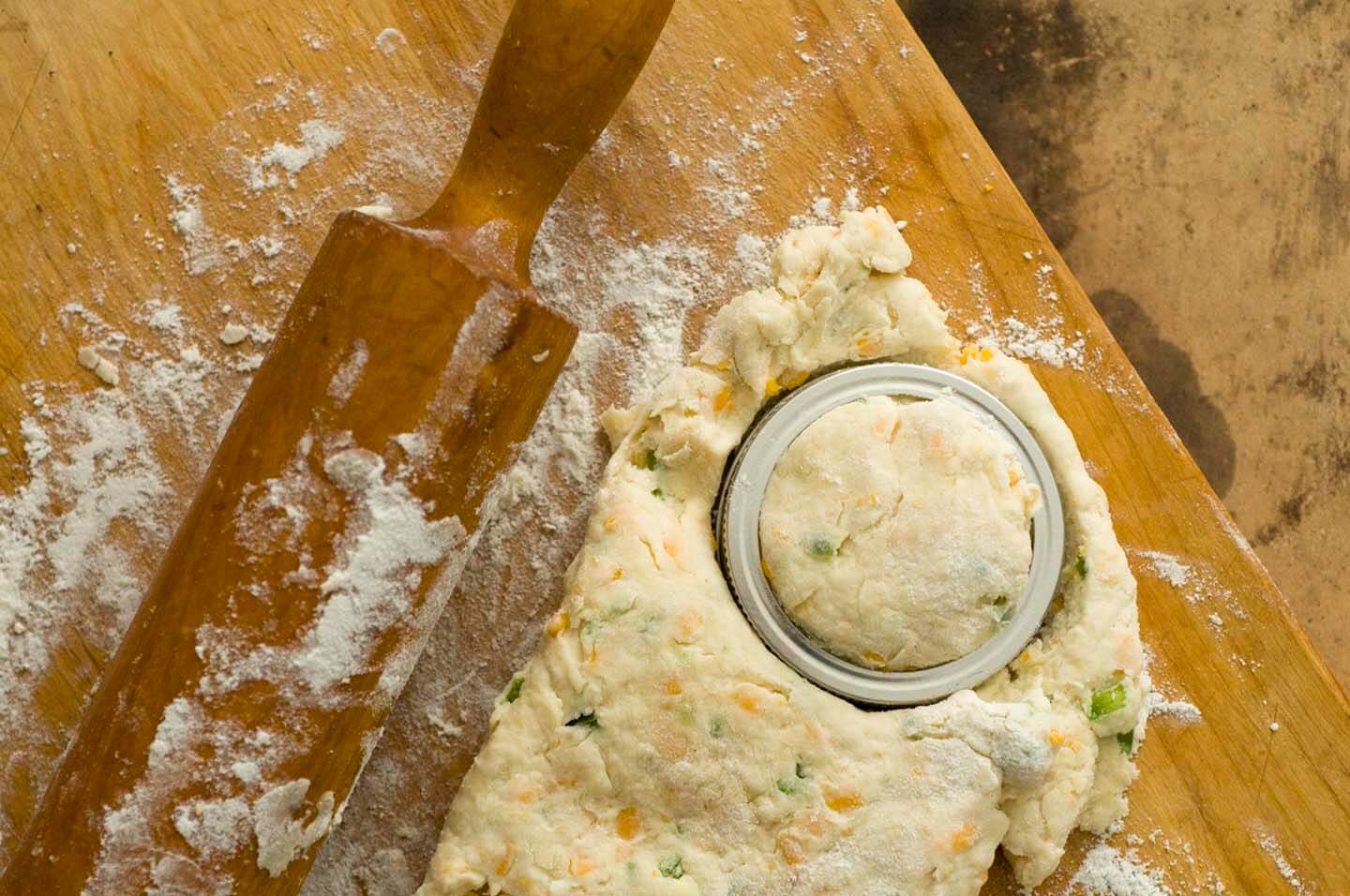 The best thing about baking biscuits, however, is how meditative the process can be. Because they're easy to make, you don't have to think very hard as you stir the ingredients and manipulate the dough. The most difficult task is waiting 15 minutes for the biscuits to come out of the oven. No matter how I'm feeling, the simple yet satisfying act of making biscuits always brings me peace and joy.

My basic biscuit recipe gets the most requests, but sometimes I like to jazz things up a bit as well. For instance, you can add bacon to a biscuit or perhaps fruit. But lately my favorite addition has been jalapeños and cheddar cheese. And in the past few weeks I've made these jalapeño cheddar biscuits almost every day.
For these biscuits, I cut up two jalapeño chiles into small dice and add them along with a handful of yellow cheddar cheese to my standard recipe. The jalapeños give the biscuits some kick while the cheese makes the biscuits more flaky and flavorful. It's a winning combination.
These jalapeño cheddar biscuits are at their best when eaten straight out of the oven, though they do reheat well and can be made ahead of time, too. I tend to slather them with butter, but they are so soft and tender that they can be enjoyed unadorned if you prefer.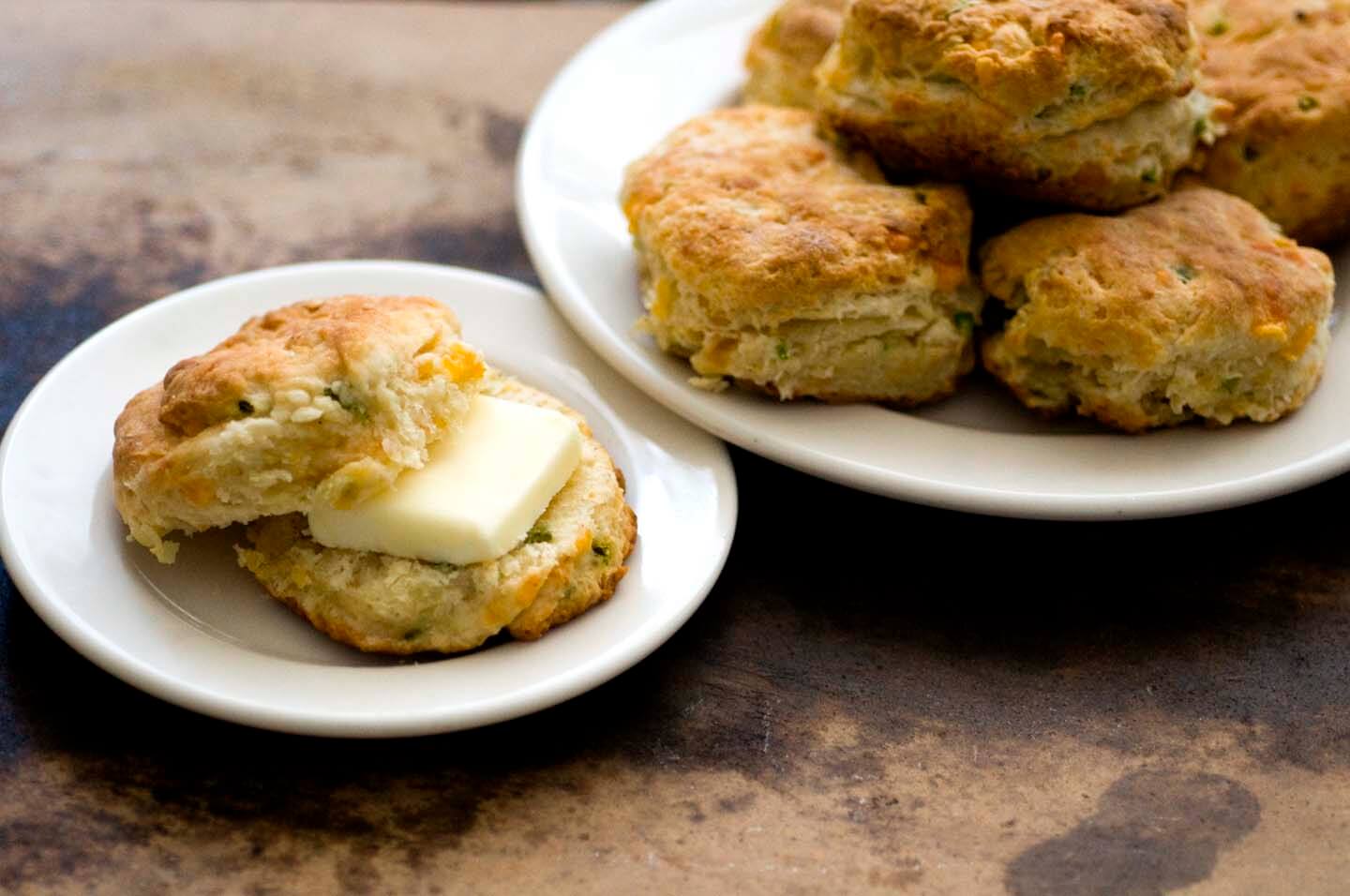 I eat them with eggs in the morning, but they also go very well with fried chicken, chili, or beans. Though if you're like me, you really don't need any excuse to eat a biscuit and will probably find yourself savoring them at any time of the day. And if you discover that you love making biscuits, perhaps you can become chief biscuit maker for your family, too.
Jalapeño cheddar biscuits
Ingredients
2

cups

all-purpose flour

1

tablespoon

baking powder

1/2

teaspoon

kosher salt

4

ounces

(1/2 cup) shredded Longhorn or medium yellow cheddar cheese

1 or 2

jalapeños, depending on how hot you want it, seeded and finely diced

1

stick, 8 tablespoons cold butter

3/4

cup

half-and-half
Instructions
Preheat the oven to 450°F and grease a baking sheet or a large ovenproof skillet.

Whisk together the flour, baking powder, and salt. Stir in the cheddar cheese, and diced jalapeños. Cut the stick of butter into 8 pieces and then work the butter into the flour mixture with your hands or a pastry blender until the flour is crumbly. Stir in the half-and-half, mixing until the dough is well combined. It's okay if the dough is a little sticky.

Pour the dough out on a floured surface and knead for a minute. Now the dough should be smooth and no longer wet. (You can sprinkle more flour on the surface if you find that it's sticking.) Roll out the dough until it's 1/4 of an inch thick and then fold over in half.

Using a round cutter cut out the biscuits from the folded dough. (You may have to gather the scraps and roll out again if you run out of room while cutting.) Place the cut biscuits on the greased baking sheet close together (so they rise up, not out) and bake for 15 minutes or until the tops are golden brown.

They are best straight from the oven, but they can be baked ahead and then reheated for 10 minutes or so at 400°F in an oven or toaster oven. They will last in an airtight container for 3 days. You can also freeze them after cooking and then let them thaw before reheating.