Jalapeño dill potato salad
Last weekend I attended my first outdoor gathering of the season, and I brought one of my usual potluck standbys, my pinto bean and hominy salad. The cool combination of beans and hominy along with a medley of peppers, tomatoes, and aromatics reminiscent of pico de gallo not only travels well but also is tangy and flavorful enough to be a good foil to smoked and grilled meats. It's always a hit.
That said, I'm often on the hunt for new dishes to bring to barbecues. Recently, Paula Forbes' new collection of recipes called The Austin Cookbook was delivered to my mailbox, and while I had provided an endorsement for the book pre-publication, it was satisfying to hold the finished work in my hands, especially since my friend Robert Strickland shot the engaging photographs. It's a bright and lively book.
Like many Texans, I lived in Austin at one point in my life and in fact it was the last place I called home before moving to New York City. Sure, in the passing years the city has certainly grown and changed quite a bit. But whenever I visit, at its core I can still sense that quirky, laid-back town I fell in love with so many years ago.
Paula, a native of Wisconsin, moved to Austin in 2006 and also fell in love with the city after she arrived. She was the founding editor of Eater Austin, and for her book she taps into her deep knowledge of Austin's restaurants and chefs. As such, the recipes traverse both traditional Austin fare such as migas and smoked brisket, and new Austin favorites such as beet fries and banh mi tacos. This book is her way of celebrating the place that she adores.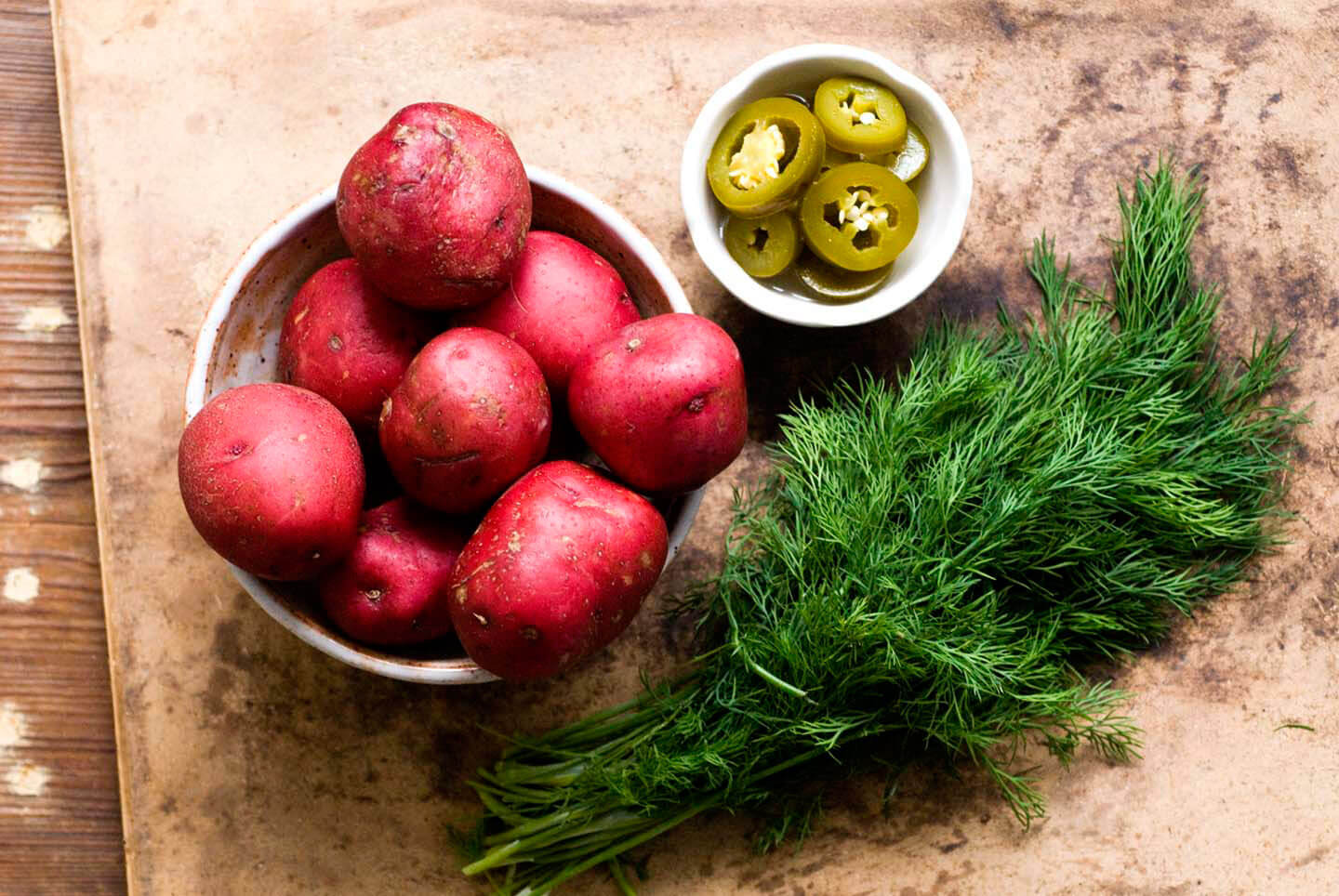 There are many dishes that I'm curious to make such as Lucy's fried chicken and Parkside's macaroni and cheese. I'm also eager to smoke a turkey breast as per La Barbecue, but until I have a yard, I'll be putting off that project for a while (though I have been tempted to see how it would turn out in my stovetop smoker). But as we move towards summer and the season of backyard get-togethers, I'm all about the side dishes and there's an assortment of those in the book, too.
One cold salad that caught my eye was Kerlin BBQ's jalapeño dill potato salad. Most potato salads served at Texas barbecue joints are made with a mustard base, though this one bucks tradition and uses mayonnaise mixed with sour cream for its tang. There's a healthy dose of pickled jalapeños involved along with handfuls of chopped fresh dill and scallions, too. So, while a bit unconventional, the combination of ingredients sounded bright and fresh. I decided to give it a try.
After gathering my ingredients, putting the salad together took little effort, and the only addition I made was tossing the potatoes with jalapeño pickle juice for an extra kick. As I stirred everything together in a big bowl, I kept sneaking bites as it was so good. As a matter of fact, Paula had warned about this temptation in her headnote. So, while I enjoyed it warm, I followed her advice to chill it for a spell. And after a few hours the pungency of the dill, scallions, sour cream, and pickled peppers still gave the salad quite a pop.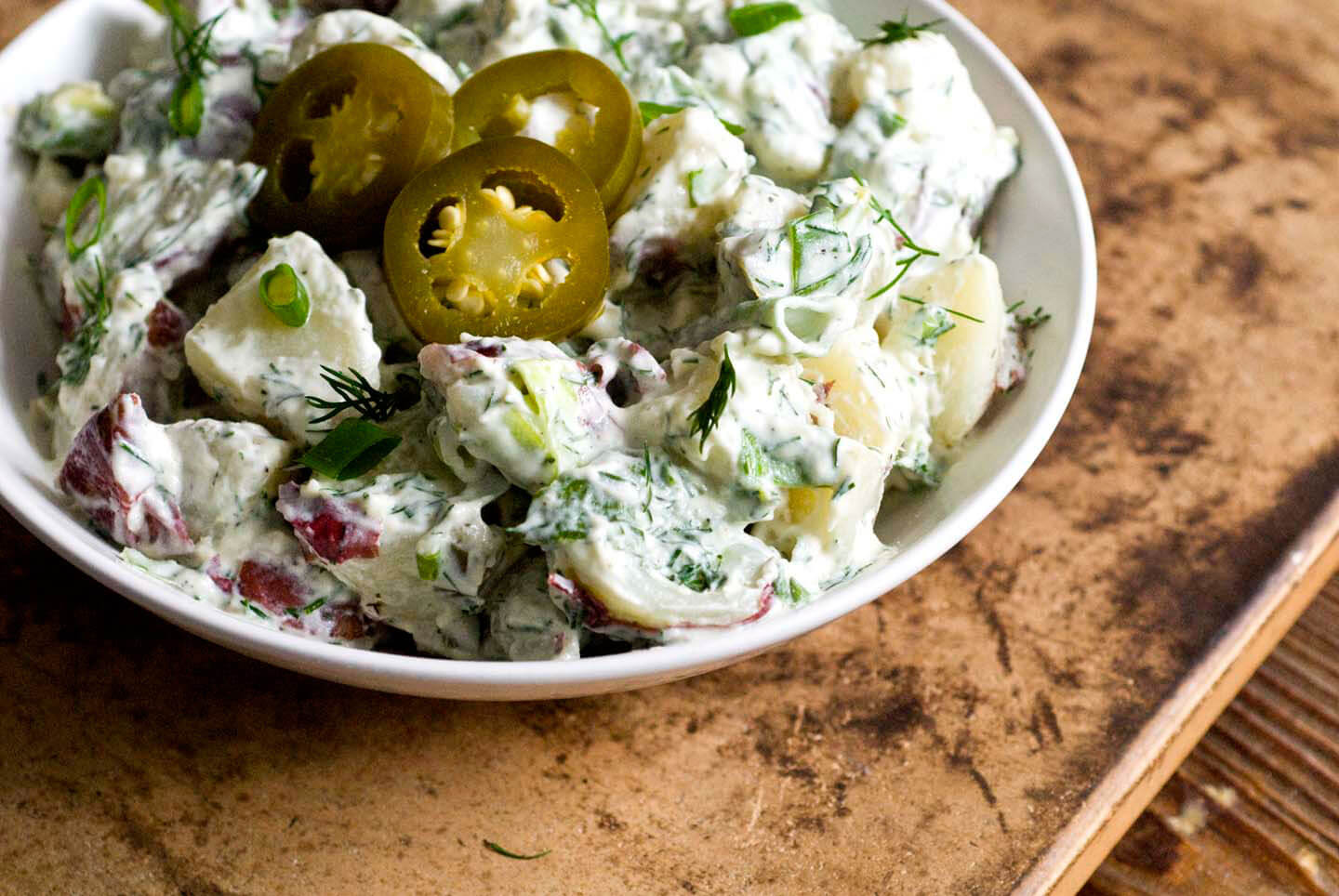 In the upcoming weeks, I have a few more parties on the horizon and I'm thrilled to share something new. This salad will make a fine addition to any side-dish spread. While I'd always been a staunch fan of mustard in my potato salad, the dill and pickled jalapeños offer plenty of brightness to offset the richness of smoked meats. Indeed, this salad is familiar yet new—much like the city of Austin itself.
Jalapeño dill potato salad
Ingredients
5

pounds

red potatoes, skin on

1

tablespoon

kosher salt

2

tablespoons

jalapeño juice

2

bunches scallions, green part only, thinly sliced

1

cup

chopped fresh dill

1

cup

chopped pickled jalapeños

1

cup

sour cream

1

cup

mayonnaise

1/2

teaspoon

black pepper
Instructions
Place the potatoes in a large pot, cover with cold water and add the salt. Bring to a boil then continue to cook for 20 minutes or until fork tender. Drain the potatoes, and when cool enough to handle, cut into ¼-inch cubes.

Place the cut potatoes into a large bowl. Toss the potatoes with the jalapeño pickle juice, then gently stir in the scallions, dill, jalapeños, sour cream, mayonnaise, and black pepper until well combined. Taste and adjust seasonings, adding more salt if needed.

Cover and refrigerate for at least 1 hour, though preferably overnight, before serving.