When Helen Corbitt, the famed Texan chef, arrived in Texas from New York in 1931, she was presented with the state's love for black-eyed peas, a field pea that is small, beige, and adorned with a black dot in the center, hence its name.
As she was tasked with creating menus for Texans, naturally this favorite would need to appear but there was one problem—she couldn't stand the taste of the little legumes. Helen Corbitt hated black-eyed peas.
Now, Corbitt was known for her fanciful cooking, and as she worked her way through the dining rooms of the state's country clubs, universities, hotels, and high-end department stores, she delighted her guests with dishes such as creamy cheese soup, poppy seed dressing, and cakes baked in miniature flower pots. Her table was beautiful and people flocked to enjoy her food.
But back to those pesky peas. Because they were abundant in Texas and many considered them not only a mealtime staple but also a necessary food on New Year's Day to ensure good fortune, she knew it was important for her to serve them but she wasn't pleased with the proposition.
For some reason, the traditional pot loaded with pork just didn't appeal to her. After trial and error, however, she decided to take cooked black-eyed peas and marinate them in oil, vinegar, garlic, and onion. This produced a tangy, snappy dish that had her trademark elegance in both look and taste. They were an instant hit.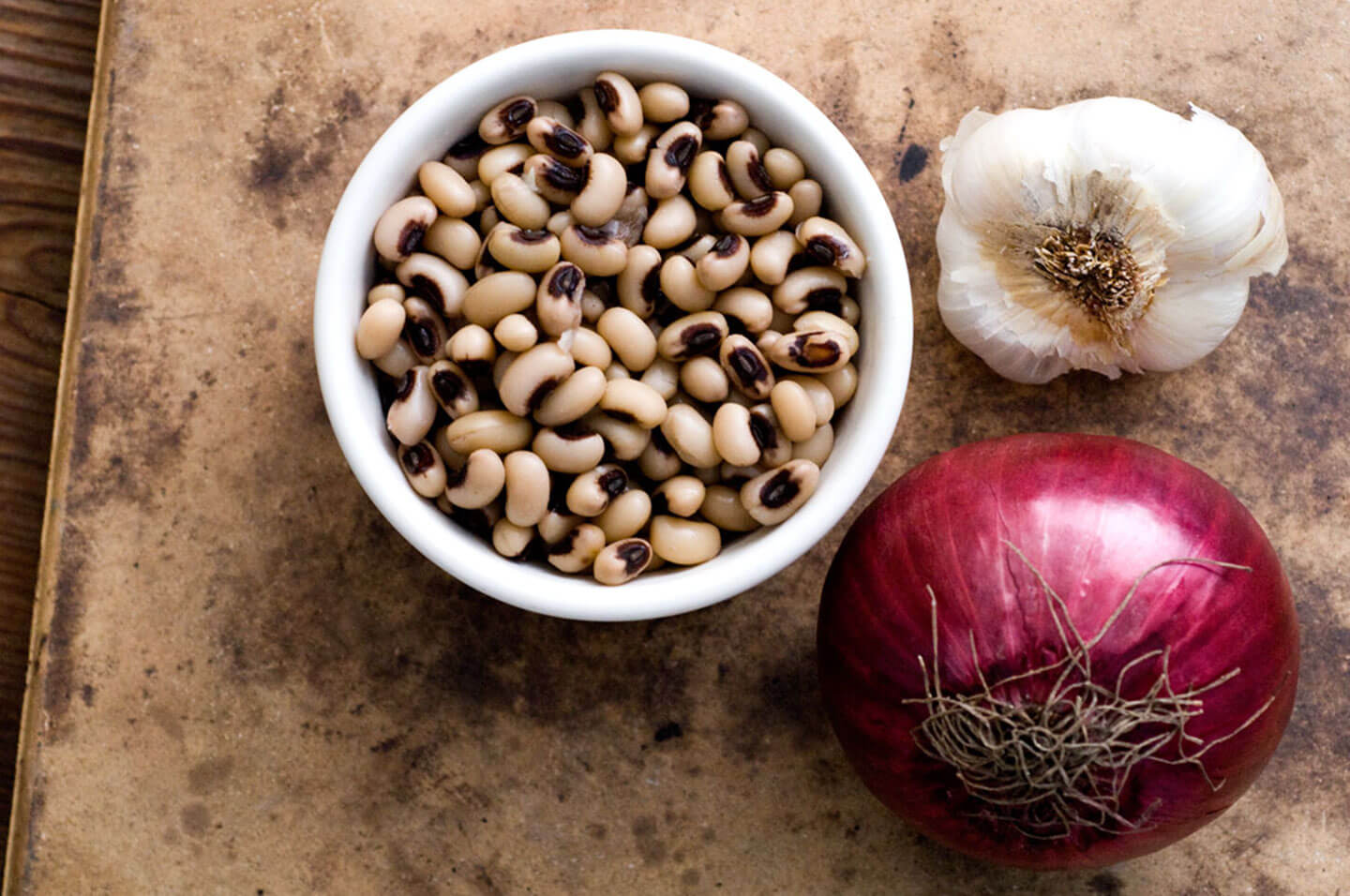 At first she called her creation pickled black-eyed peas, but they were soon known as Texas caviar (though this term did not originate with her as it had been used earlier for stewed black-eyed peas). Neiman Marcus, where she began working in 1955, placed the pickled peas in jars and sold them in its stores.
Here's the interesting thing: Texas caviar is now a classic but the dish that most of us enjoy today differs from the Corbitt original. Instead, in today's version the peas are usually mixed with peppers, tomatoes, and cilantro, making it more of a black-eyed pea salsa rather than a refined garnish or salad.
In doing research, it appears that this transition started in the 1970s and while Corbitt's name often comes up in discussion of this Tex-Mex rendition, I'm not sure she had anything to do with it, since the recipe published in her cookbooks and in newspaper profiles about her was always the minimal, pickled recipe described above.
As I thought about something to make for the New Year, I asked my community on social media for ideas and was presented with many good ones. But when my friend Stephanie suggested pickled, I instantly thought of Texas caviar and began to do some research.
To be honest, I assumed it was Corbitt who created the Tex-Mex version we commonly enjoy today, so I was surprised to see her original take. Curious what it was like, I knew that I had to make it.
Corbitt takes cooked peas and packs them into jars with oil, vinegar, onion, and garlic, and lets them marinate for a day or so, though I discovered they were delicious even after a few hours if one wanted to speed up the process.
While hers grab their flavor from the onion and garlic, for mine I also included a jalapeño for a hit of heat. To serve, they make a good side dish though some articles with her recipe suggested serving them with tortilla chips, which is excellent, too, especially if you add the pepper. It also works well on tacos or in queso.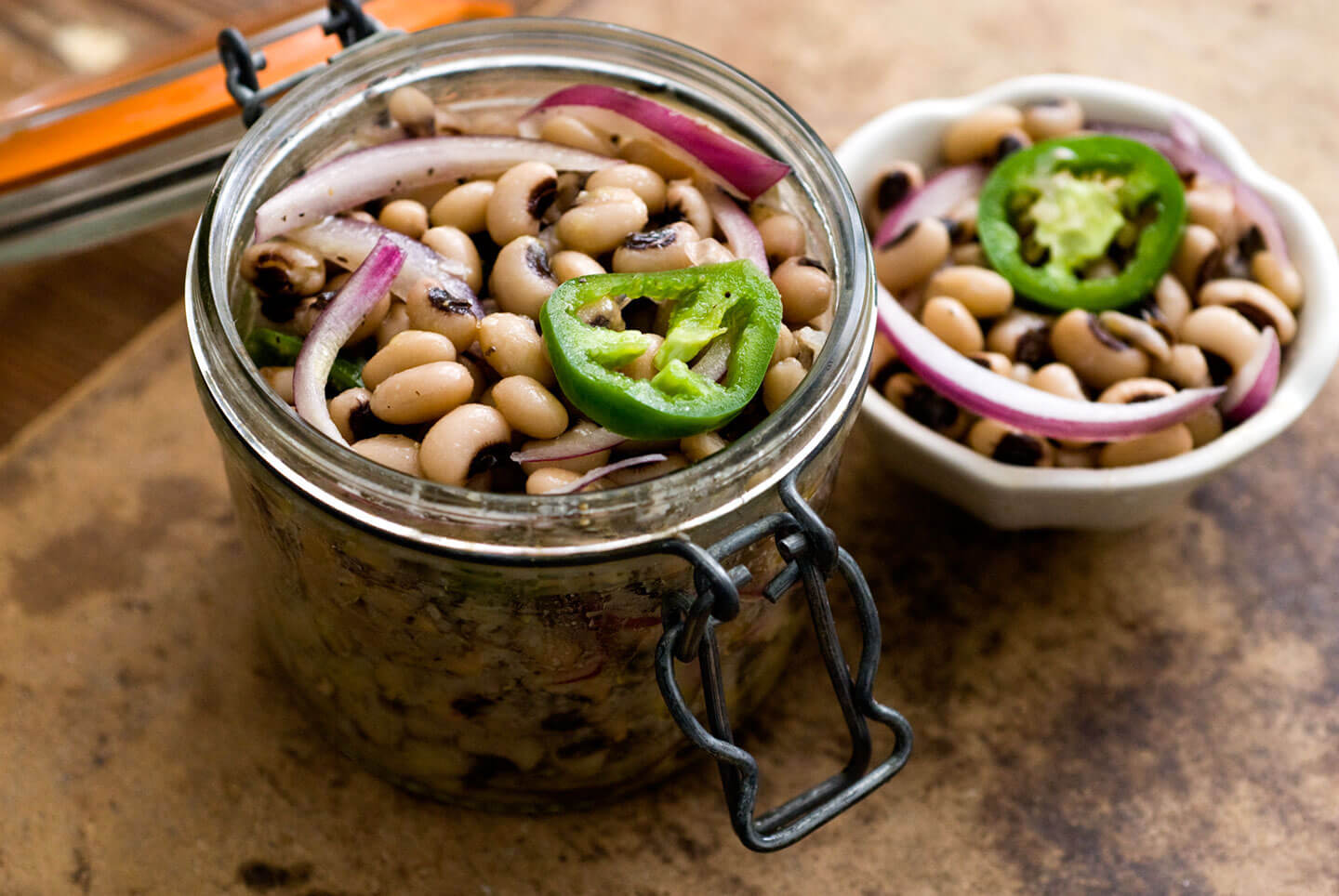 Corbitt wrote about her creation and New Year's Day: "A good Texan eats [black-eyed peas] some time during the day to insure prosperity for the coming year—whether he likes them or not. I came to Texas wide-eyed and innocent about such shenanigans—I didn't like the peas either. So-o-o I pickled them."
And like all fans of this bright and lively black-eyed pea dish, I'm glad that she did.
Happy New Year!
Pickled black-eyed peas
Ingredients
1

pound

dried black-eyed peas or 2 (15-ounce) cans black-eyed peas, drained and rinsed

Kosher salt

½

medium red onion, cut into thin slivers

2

cloves

garlic, smashed

1

jalapeño, cut into rings (optional)

1/2 to ¾

cup

canola or olive oil (see note)

¼

cup

red wine vinegar

¼

teaspoon

black pepper
Instructions
If starting with dried black-eyed peas, place the peas and about 1 tablespoon salt in a large pot, cover with 2 inches of water, and either soak overnight or for a quick soak, bring to a boil, then turn off the heat and cover the pot for 1 hour.

After the peas have soaked, bring to a boil then turn the heat down to low and simmer covered for 30 minutes. Remove the lid, then continue to simmer until tender, about 1 hour. Drain the peas. (If using canned black-eyed peas, you can skip these steps.)

Place the cooked peas in a bowl and stir in the onion, garlic, and jalapeño. Whisk together the oil and vinegar until well blended then pour the dressing over the peas and stir until well combined. Add the pepper than add salt to taste, about ½ teaspoon.

Chill in the refrigerator covered for at least 4 hours before serving, though they will get even more tangy and flavorful the longer they sit. The pickled black-eyed peas will last for a week in the refrigerator. Corbitt recommended serving them with a plate and fork, though they can be served as a garnish or a dip, too.
Notes
The original recipe called for 1 cup of salad oil. I used olive oil, as that's what I use in my salads and I prefer the flavor, but it does solidify in the refrigerator. Another reader uses canola, which will stay more fluid, so you may prefer to that instead. Also, I cut the amount down to 3/4 cup but a couple of people have said they think that's still a bit much, so you may want to use 1/2 cup instead.