Black bean chili, Texas style
After being served a Frito pie topped with black beans in Austin at a food conference, I began to ponder the notion of bean chili. Frito pies are traditionally a tangle of corn chips topped with an all-beef chili, cheese, and onions. Beans are seldom part of the equation. Though when I enquired about having a black bean chili instead of the traditional topping, the server shrugged and said it was because we were in Austin.
Now, I've made the association between black beans and Austin before. In fact, there is an Austin-style black bean recipe on this site that has long been a reader favorite. While I always found the title self-explanatory, I did laugh when a reader asked me where she could buy Austin beans. She had been looking at stores all over Central Texas, but all she could find were the standard black beans and not the special Austin variety.
To set the record straight, the black beans used in all my recipes are nothing special. Usually, they're sold under the name black beans though sometimes you'll see them referred to as turtle beans. While I'm sure there are heirloom black beans available, I've had much success with the standard legume and continue to use it today.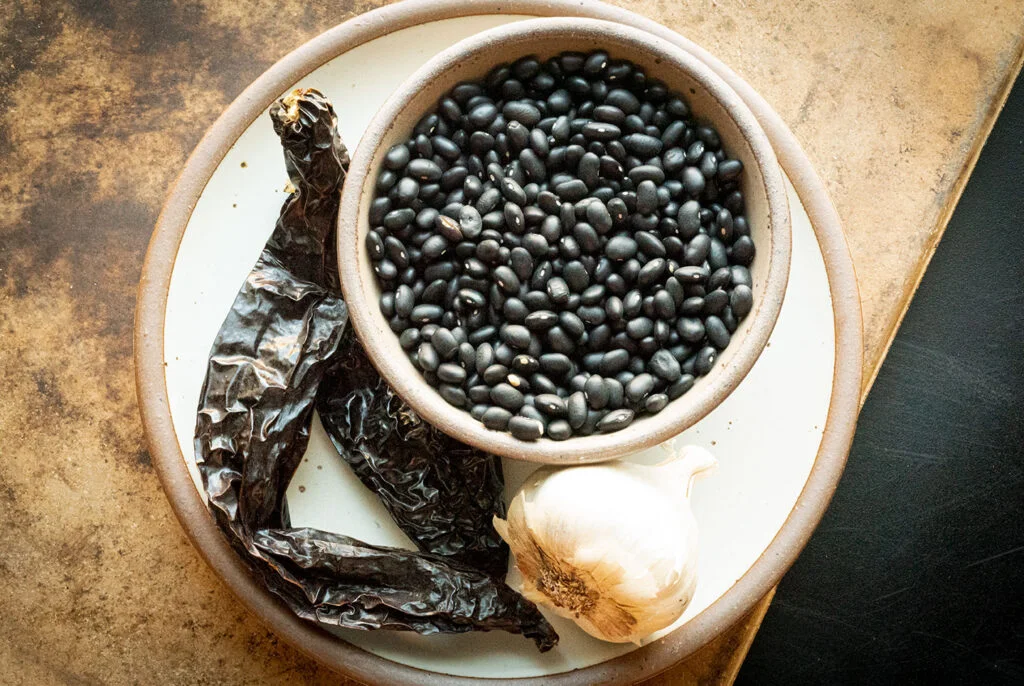 Black beans, despite their diminutive size, usually take longer than pintos to cook. But once they've softened, you're now in possession of a pot of meaty and flavorful protein that takes well to a host of flavors. But I'd never made a chili with black beans before, so I decided to give it a try.
Many black bean chili methods incorporate meat, such as ground turkey or ground beef, into the dish, which I didn't want to do. Not only do I already have plenty of meaty chili recipes, but as a homegrown Texan, there is still a part of me that feels combining meat with beans is not a proper chili.
For instance, a friend makes a dish she calls Lakemont chili with beans and beef, and while incredibly satisfying, Texas chili purists advise that it's better to refer to it as a beef and bean stew.
Of course, these same traditionalist would also eschew the notion of an all-bean chili. I understand this point of view, and that's why the term chili beans exists. Though much like chicken chili or turkey chili, I am flexible enough to go with chili comprised only of beans. As long as it's hearty and delicious, a name means very little to me.
For my black bean chili, I didn't use meat or follow methods that emulated other regions' notion of chili, namely incorporating lots of vegetables, such as red bell peppers and green bell peppers, sweet potatoes, tomato sauce, and vegetable broth to the pot. These may be delicious stews, but to a Texan, they are not chili. Instead, I looked at how chili had historically been made in South Texas.
Now, before I get into this specific recipe, first a refresher on Texas chili. The dish evolved from early settlers who possessed roots from Mexico, the Canary Islands, and mainland Europe. Using these culinary backgrounds, a stew evolved that combined European ingredients, such as beef and cumin, with American ingredients such as chile peppers.
Chili, which can also be called chile con carne (which translates to peppers with meat), in Texas is usually made only with meat, and not with beans as it is in other parts of the country. (The original recipes didn't have tomatoes or onions, too.)
That said, beans are heavily present in Mexican cooking, and preparing them with a chile-rich sauce is delicious. While calling it chili may get some upset, one could argue this vegetarian chili is just as authentic to this region as chile con carne.
For my pot, I first cooked dried black beans with Tex-Mex spices such as chili powder, garlic powder, oregano, and bay leaves. After they were done, I made a chili gravy out of dried pasilla and ancho chiles, both chosen for their bittersweet earthiness. I also added a smoky chipotle chile, along with garlic, ground cumin, oregano, and allspice.
My chile peppers were not too fiery, so I threw in a dash of cayenne, too. After simmering the already-cooked beans in the spicy, savory sauce, I then mashed some of the beans on the side of the pot to thicken the pot. I stirred in some masa harina corn flour to tighten up the chili, too.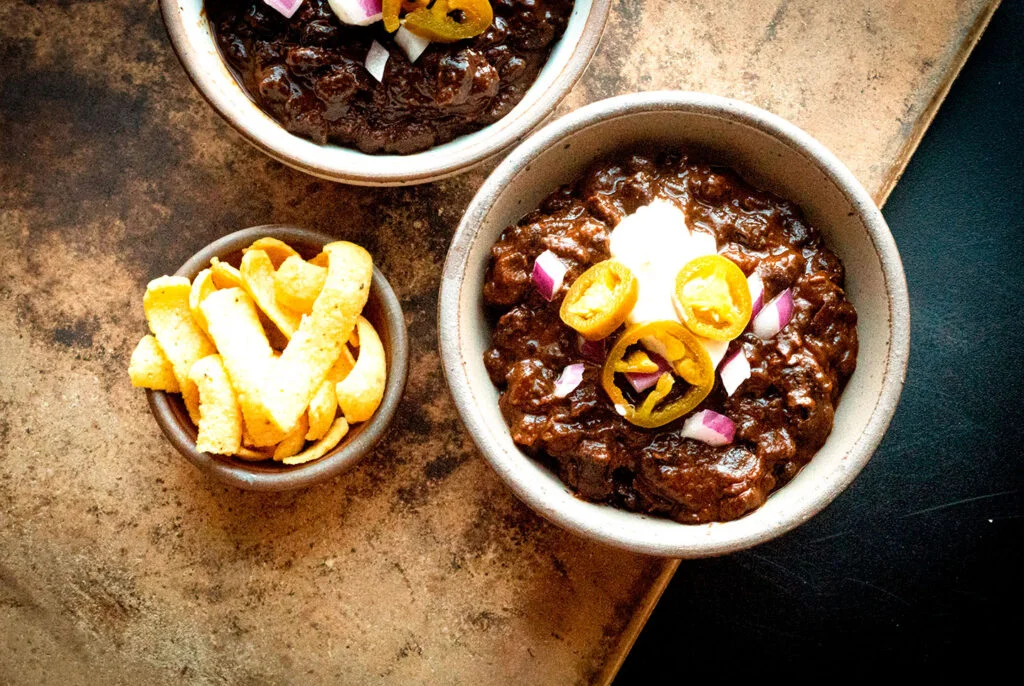 The resulting black bean chili recipe has a warm and savory depth of flavor from the dried chiles. While black beans and beef don't share the same flavor, the beans are hefty and tender enough to make a fine stand-in for meat if you're looking for a vegan dish.
I like to keep my bowls simple with each topped with sour cream, pickled jalapenos, and diced onion. Though can also serve it with tortillas, tortilla chips, cilantro, and avocado, too if you prefer.
—————
Would you like more Homesick Texan? Well, I've started offering additional recipes for paid subscribers to help with the costs of running the site. While I'm not taking anything away, if you'd like to support Homesick Texan and have access to exclusive, never-seen-before subscriber-only posts, please consider becoming a member; annual subscriptions are as low as $25. Thank you for reading, your consideration, and your support!
—————
Black bean chili, Texas style
Ingredients
For the beans:
16

ounces

dried black beans

1

tablespoon

kosher salt

1

tablespoon

black pepper

1

tablespoon

ground cumin

1

tablespoon

garlic powder

1

tablespoon

dried oregano

¼

teaspoon

cayenne

¼

teaspoon

baking soda

1

bay leaf

8

cups

water
For the chili:
1

ounce

(about 3) dried pasilla chiles

1

ounce

(about 3) dried ancho chiles

1

tablespoon

grapeseed oil

8

cloves

garlic

2

tablespoons

ground cumin

2

tablespoons

dried oregano

1

teaspoon

kosher salt

Pinch

cayenne pepper

4

cups

water

2

canned chipotle chiles

1

cup

bean broth

1

tablespoon

masa harina

2

tablespoons

fresh lime juice

Sour cream, for serving,

Diced onion, for serving,

Pickled jalapeños, for serving
Instructions
Rinse and sort the beans then place them into a large pot. Add to the pot the salt, black pepper, ground cumin, garlic powder, dried oregano, cayenne, baking soda, bay leaf, and water. Bring the pot to a boil on high, then turn off the heat and cover the pot for 1 hour to quickly soak. You can also soak overnight without boiling first if you prefer.

After the beans have soaked, heat the oven to 275°F and place the pot, with the beans and its soaking liquid, covered into the oven. Cook for 2 hours then check on the beans' tenderness. If the beans are tender, taste and adjust seasonings. If the beans need more time to become soft, continue to cook covered, checking the beans every 30 minutes until done.

When done, drain the black beans for the chili, reserving 1 cup of the bean broth. Wipe out the pot as you'll be using it again.

To make the chili, in a dry skillet heated on high, toast the pasilla and ancho chiles for about 10 seconds, turning once. Fill the skillet with enough water to cover the chiles. Leave the heat on until the water begins to boil and then turn off the heat and let the chiles soak until soft, about 30 minutes.

Meanwhile, in the bean pot, on medium heat, warm the grapeseed oil. Add the whole garlic cloves, and while occasionally stirring, cook until fragrant and beginning to brown. Add the cumin, oregano, salt, and cayenne and while stirring, cook for 1 more minute.

Scrape the garlic and oil with the seasonings into a blender, then add 2 cups of water to the pot, swirl around to gather all the cooked bits, then pour into the blender.

Drain and rinse the chiles when they're soft, and also place them into the blender. Add the chipotle chiles to the blend, then puree the chiles with the garlic, water, and spices until smooth.

Pour this chili gravy puree into the bean pot, then add the remaining 2 cups of water into the blender jar and swirl it around to get the rest of the puree. Pour this into the pot, then add the beans back to the pot, too, along with the reserved bean broth.

Stir the beans until they're well blended with the chili gravy then simmer on low heat uncovered for 1 hour or until the gravy has reduced and the beans are flavorful.

Stir in the masa harina until well blended, then stir in the lime juice and taste and adjust seasonings. Continue to cook uncovered until the broth has thickened up a bit from the masa harina, about 5 minutes. Serve warm, topped with sour cream, diced onion, and pickled jalapenos.
Notes
If you want to use canned black beans, that's fine. You'll need 4 (15-ounce) cans and use 1 cup of the liquid in those cans. You'll most likely want to add more spices, so add the chili powder, garlic powder etc. to taste depending on how the canned beans were prepared.