South Texas potato flautas
A friend of mine from the Rio Grande Valley used to talk about her mother's potato flautas. They had been her mother's specialty, and whenever my friend made them in her New York City kitchen she felt like she was back home in her family's kitchen.
While it had been a familiar comfort food for her, the concept of a potato flauta sounded curious to me. Even though I had grown up eating chicken flautas and beef flautas in Houston, a crisp rolled taco stuffed with potatoes was not common, and in my limited experience, I had never encountered such a thing.
Now, across the state you'd find cubed and fried potatoes in breakfast tacos, for instance, it was always alongside a protein such as chorizo or eggs. But a taco stuffed with only mashed potatoes was different. I was intrigued.
When I asked my friend how they were prepared, she said the basic recipe is simple. First, you take potatoes and cook them then until tender. You then mash the potatoes with butter, milk, and cheese, such as Monterey Jack. Chiles, such as jalapeños, chipotles, or poblanos can be added, along with aromatics such as garlic. A few dashes of oregano and cumin are also welcome.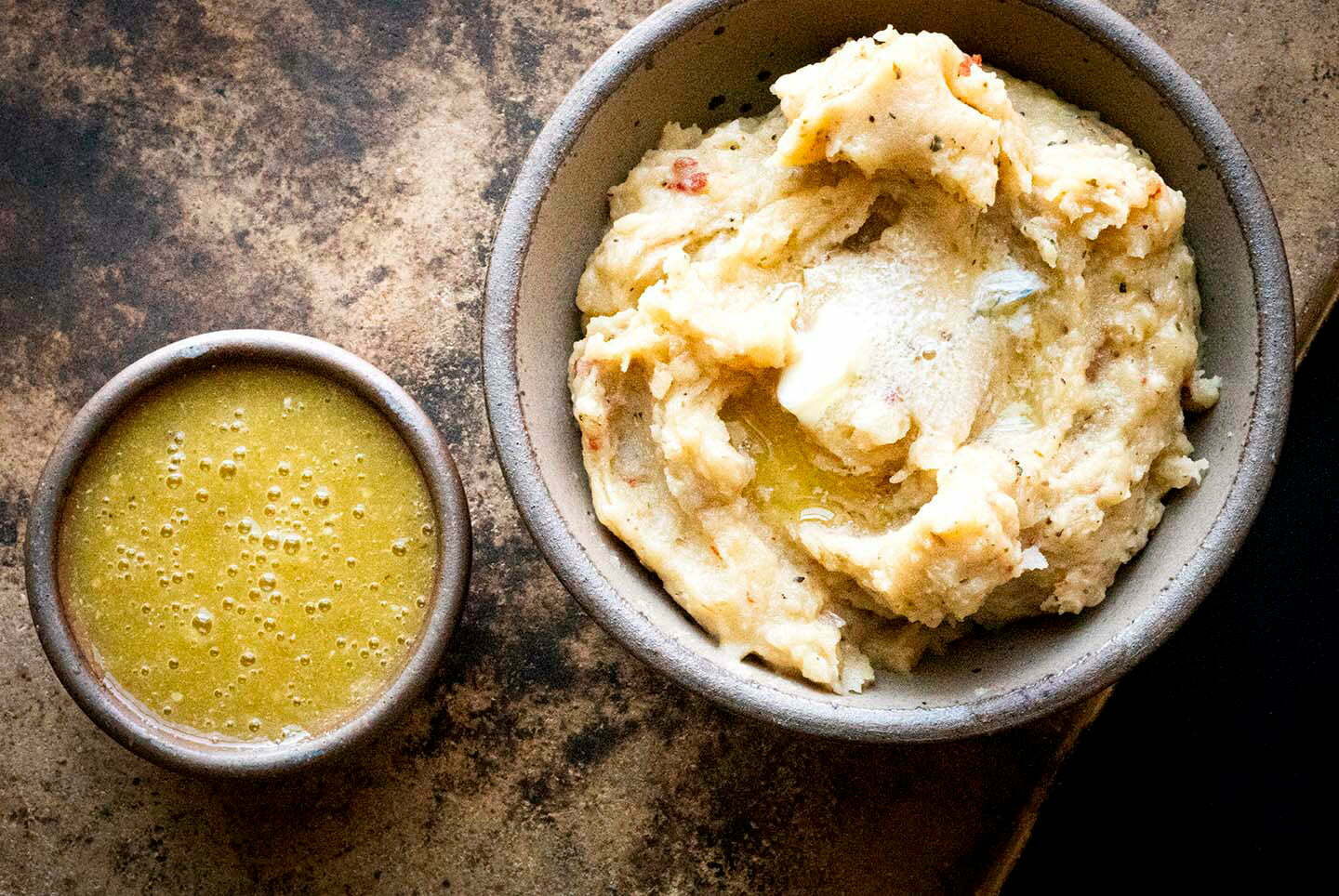 Once the mashed potatoes are to your liking, you spread the filling onto a corn tortilla, roll it, fry it, then serve with salsa on the side. Crumbled queso Cotija, cilantro, and a drizzle of crema or a spoonful of cream can be added, too.
While the flautas were new to me, on my next trip to Laredo, I observed they appeared on quite a few restaurant menus. Clearly, this wasn't only a homestyle dish, but instead, one that was part of that region's cuisine. A little research showed that tacos de papas or flautas de papas are also common across the border in the Mexican states of Coahuila, Nuevo Leon, and Tamaulipas.
Their origins are murky, but I assume that they were a low-cost dish made from necessity that became part of their table's vernacular. When I asked about them, people would shrug and simply say that they'd always enjoyed them.
Later, I learned that in San Antonio you can get a flour tortilla filled with just sliced and fried potatoes. Chiles and cheese are also added much like its crispy cousins found further South. They're also hearty, though the mashed version may have the edge in comfort as smooth, creamy potatoes are always a soothing food.
Potato tacos are served year-round, though they are especially popular in the winter when people may be avoiding meat for health or religious reasons, such as Lent. Here is my rendition, a crisp and creamy taco I've livened with chipotle chiles and garlic. Instead of frying the flautas in oil, I bake them at high heat in the oven, which is less messy and yields a satisfying crunch.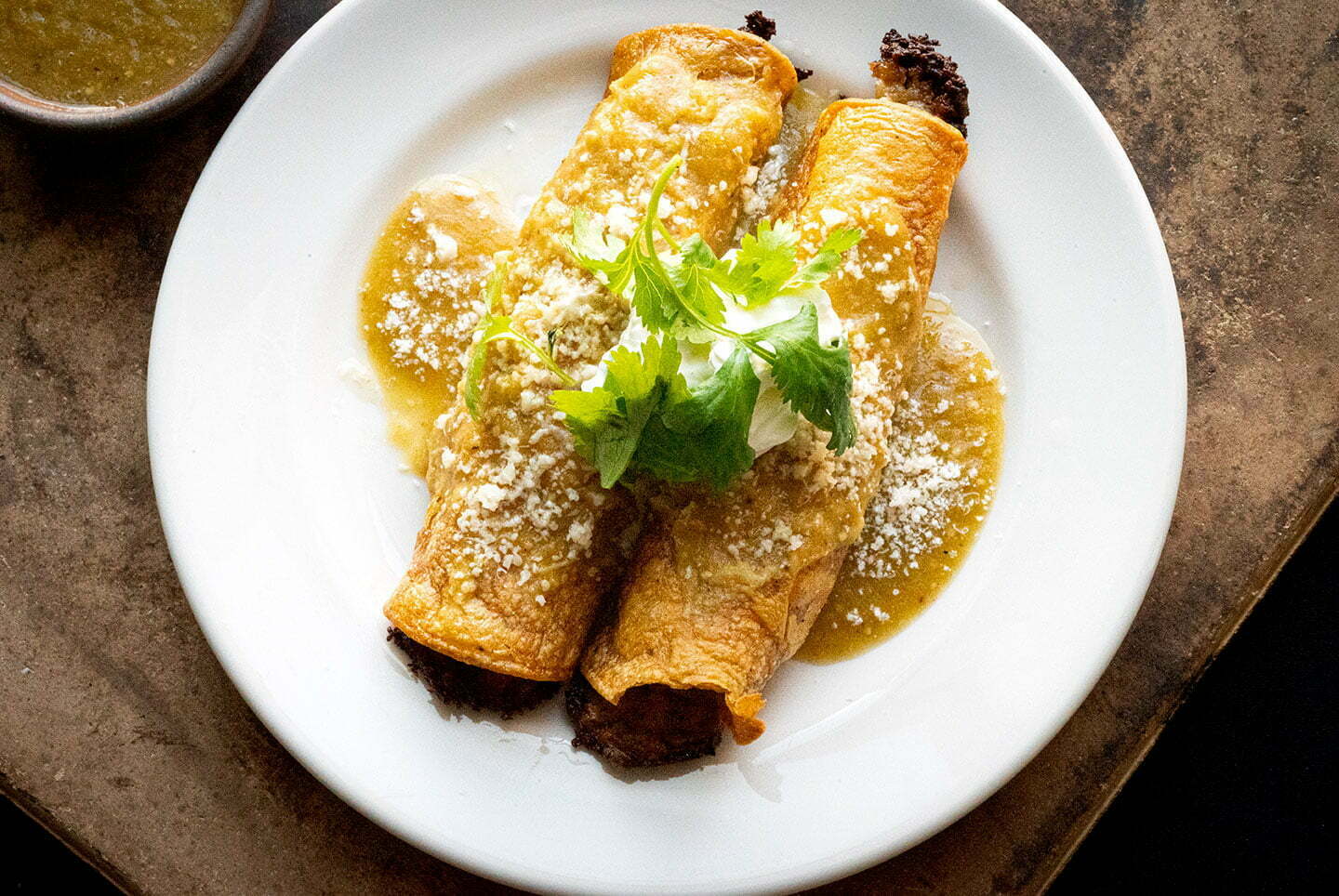 Kids enjoy the shape though these are certainly popular with adults, too. While they are still very much a regional specialty in Texas, there's no reason why they couldn't become a more common dish. I'm glad I now know about them and I believe that you will be, too.
—————
Would you like more Homesick Texan? Well, I've started offering additional recipes for paid subscribers to help with the costs of running the site. While I'm not taking anything away, if you'd like to support Homesick Texan and have access to exclusive, never-seen-before subscriber-only posts, please consider becoming a member; annual subscriptions are as low as $25. Thank you for reading, your consideration, and your support!
—————
South Texas potato flautas
Ingredients
For the potato filling:
1 1/2

pounds

Russet potatoes, peeled and cubed (about 2)

1

tablespoon

kosher salt

Black pepper

4

tablespoons

unsalted butter

4

cloves

garlic, minced

1/4

cup

whole milk

4

ounces

(1/2 cup) Monterey Jack, shredded

1

canned chipotle chile, minced

½

teaspoon

dried oregano

½

teaspoon

ground cumin
For the flautas:
¼

cup

safflower oil

12

corn tortillas

Salsa, for serving

Crumbled Cotija cheese, for serving

Sour cream, for serving
Instructions
To make the potato filling, place the potatoes in a large pot, cover with 1 inch of water, add the salt, and bring to a boil on medium heat. After the water comes to a boil, turn the heat to medium-low and continue to cook until the potatoes are fork-tender (be sure not to overcook), about 10-12 minutes. Drain and rinse, then lightly salt and pepper the potatoes.

Wipe out the pot, then add the butter and melt it over low heat. Add the garlic, and while stirring, cook until fragrant and softened for about 30 seconds. Turn off the heat.

Return the potatoes to the pot, and with a masher, mash the potatoes until smooth.

Pour in the milk and stir until well blended and creamy. (I leave off the heat to prevent the potatoes from burning on the bottom, but if you find they're not hot enough, use low heat but keep stirring to prevent them from sticking.) Stir in the cheese until melted, then stir in the chipotle, oregano, and cumin. Taste and add more salt and pepper if desired.

To make the flautas, preheat the oven to 425°F and pour the oil onto a sheet pan or into a large baking dish. Add the tortillas to the sheet (it's okay if they're overlapping) and work with your hands to get them coated in the oil. Place in the oven (it's fine to do this while it's heating) for 3-5 minutes or until softened and warm. Take the tortillas out of the oven and remove them from the sheet.

Place 1/4 cup of the potato filling in the center of each tortilla, then roll, and place back on the sheet, about 1/2 inch apart, seam side down. Cook for 20-25 minutes uncovered or until lightly browned and crisp.

(While cooking, please note that some of the filling may run out of the ends of the flautas, but I find this is welcome, as it yields a crisp and cheesy potato bite.)

Serve the flautas warm topped with salsa, cheese, and sour cream.
Notes
Please note that it is 1 chipotle chile pepper that comes in a can, not an entire can of chipotle chiles!