Turkey tamales with guajillo-cranberry mole
My dad's family always gets together the Saturday after Thanksgiving. I think this is smart as there's nothing more stressful then either having to make a choice on where to eat on Thanksgiving or—even worse—shuttling between two huge dinners in order to make everyone happy. Nope, Thanksgiving should be a time where you can enjoy yourself and savor both the meal and company, something that my dad's side of the family has figured out how to do right.
The food on offer at this Saturday gathering is usually Thanksgiving fare, with Uncle Bubba providing additional entertainment by frying up a turkey or two outside. Now, I have to admit, I haven't been to one of these feasts in quite some time as I return to New York the Saturday after Thanksgiving to avoid the Sunday-travel rush. Graciously, however, I'm always included in the discussion about the get-together, and this year Aunt Janet decided to mix things up a bit by suggesting that a Mexican feast would be more fun instead.
As I started reading the emails from family chiming in on what they'd provide, I was inspired when I saw a request for tamales. As we enter December it also marks the beginning of tamalada season, a time when Texan families gather to make a mess of tamales to feed friends and family throughout the holidays. And what better stuffing for a tamale than leftover turkey?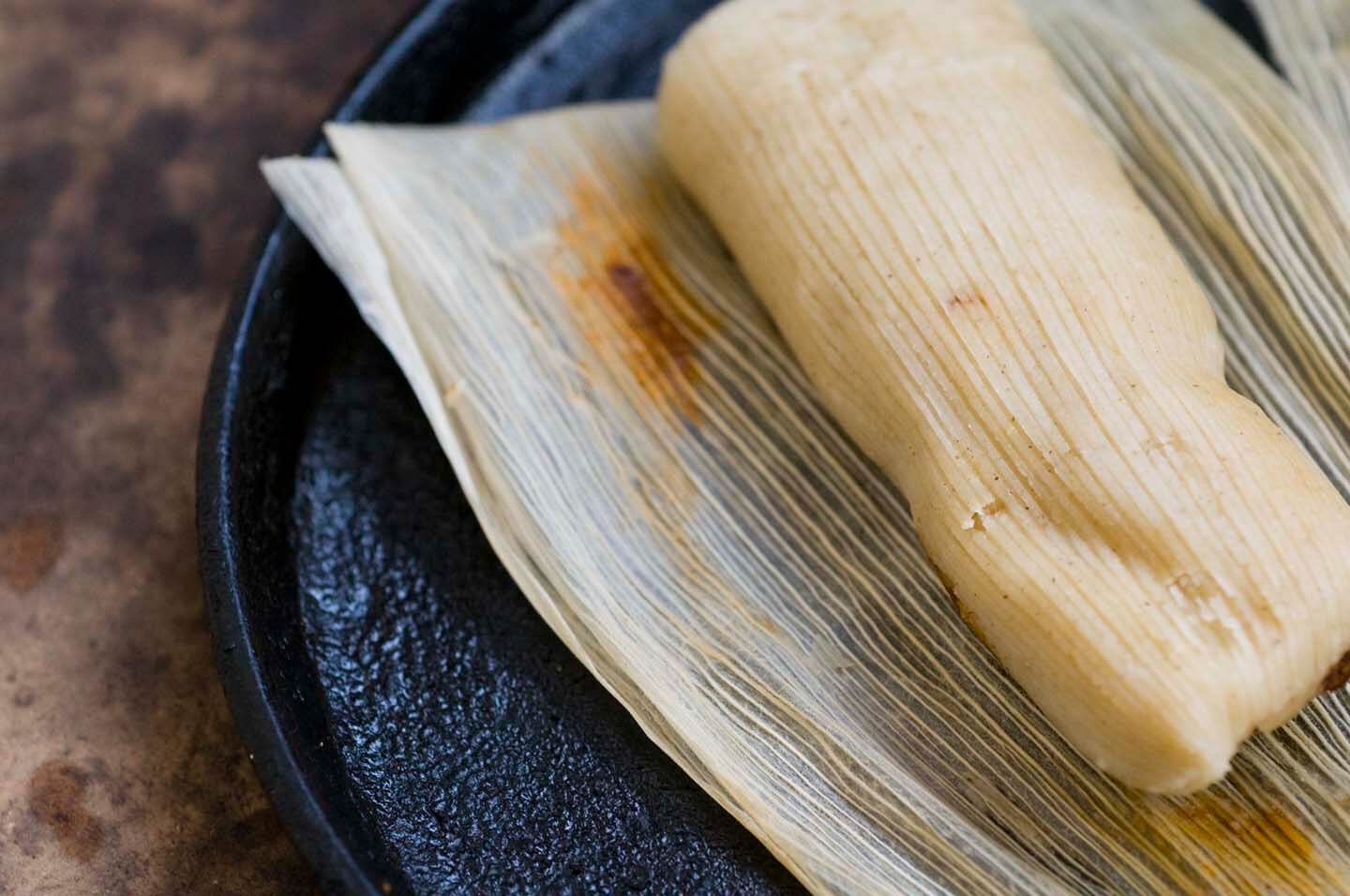 Turkey tamales are usually made with one of two salsas, either a tangy tomatillo or a rich mole (pronounced moe-lay). I find that smoked turkey goes especially well with a zesty salsa verde, but nothing beats roasted turkey paired with the earthy bittersweet flavor of mole—it's a classic combination. I am, however, not one to follow the rules. So while a traditional mole poblano is usually comprised of ancho and pasilla chiles, along with almonds and raisins, I made up a Thanksgiving-themed mole with dried cranberries, pecans and the bright berry-like guajillo chiles instead.

Now, I reckon mole purists may scoff at this salsa, but I believe that the flavors definitely work well together. I often find that traditional mole can be a bit heavy, which after a few days of solid eating may be a bit much for your system to handle. This guajillo-cranberry mole, however, while still complex also has a lightness to it that's not so overpowering. But the best thing about turkey tamales is that after being soaked in sauce and steamed even the most dried-out turkey meat becomes soft and succulent—a fine way to enjoy the bird.
What do you usually make with your leftovers? I'm still a big fan of the day-after-Thanksgiving sandwich made with leftover turkey, a smear of mashed-potatoes and a spoonful of cranberry relish all doused in gravy. But if you're looking for a Tex-Mex twist, I highly recommend making tamales.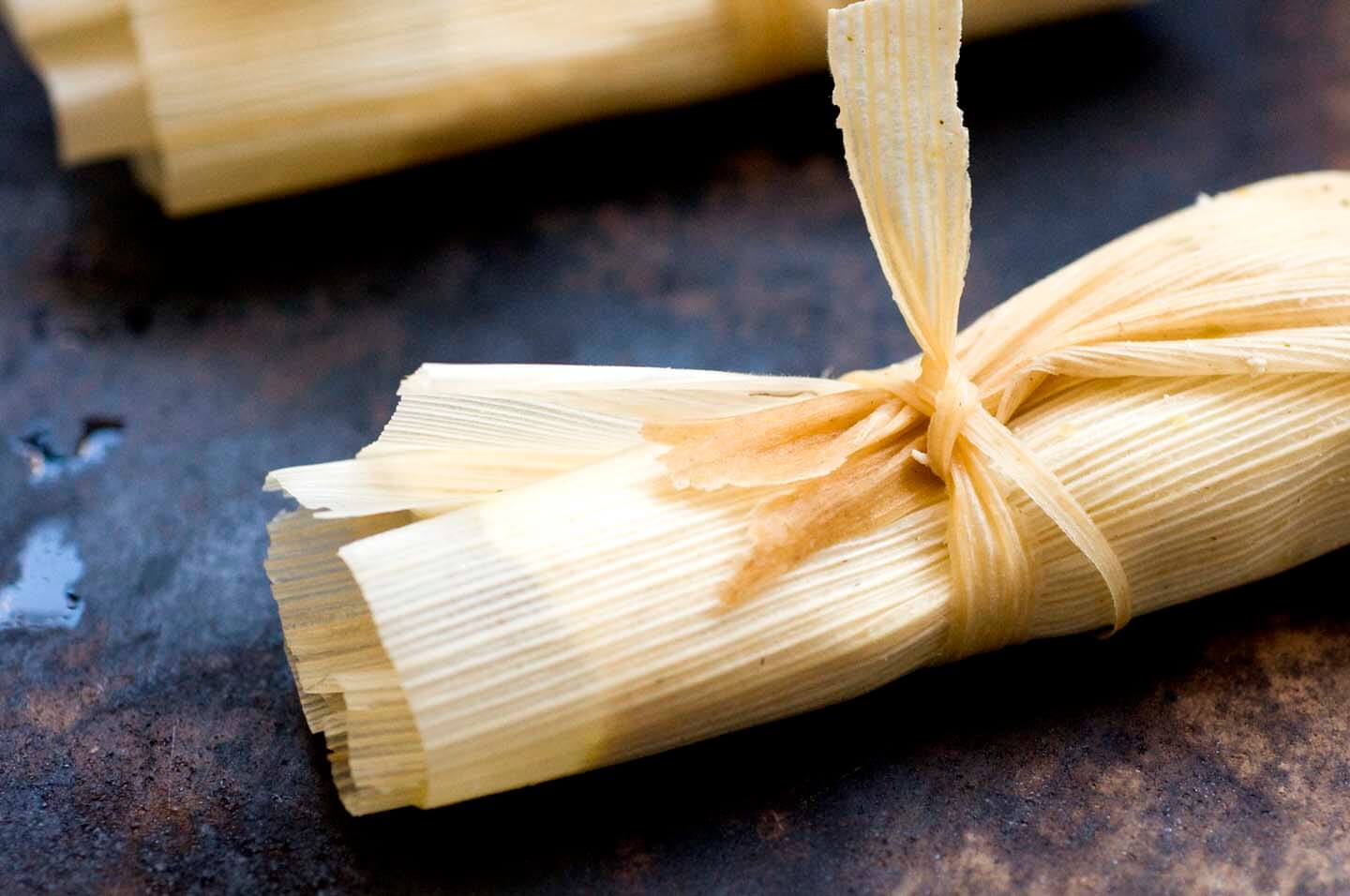 I wish I could join my family on Saturday as nothing beats seeing loved ones while savoring a Tex-Mex potluck. I will be with them in spirit, however, as I put my leftover turkey to work and make a batch of turkey tamales. Happy Thanksgiving!
Turkey tamales with guajillo-cranberry mole
Ingredients
Ingredients for the filling:
4

dried guajillo chiles, stems and seeds removed

2

dried ancho chiles, stems and seeds removed

1

tablespoon

vegetable oil

1/4

medium yellow onion, cut into wedges

4

cloves

garlic

1/2

cup

pecans

1

teaspoon

sesame seeds

1/2

cup

dried cranberries

1

teaspoon

unsweetened cocoa

1

teaspoon

ground cinnamon

1/2

teaspoon

ground allspice

1/4

teaspoon

ground cloves

1/2

cup

canned crushed tomatoes, drained

1

corn tortilla, torn into strips

2

cups

chicken or turkey broth

4

cups

shredded turkey

Salt
Ingredients for the tamales:
Dried cornhusks

1

cup

lard, shortening or butter, room temperature

4

cups

masa harina

2

cups

chicken or turkey broth

1/4

teaspoon

cayenne

Salt
Instructions
To make the mole, in a dry skillet heated on high, toast the guajillo and ancho chiles on each side for about 10 seconds or just until they start to puff. Fill the skillet with enough water to cover chiles. Leave the heat on until water begins to boil and then turn off the heat and let chiles soak until soft, about 45 minutes. Once hydrated, discard the soaking water, rinse the chiles and place into a blender.

Meanwhile, to get started on the tamales, pick through the cornhusks and choose the widest ones. You'll need 24 for the tamales plus a couple of more to rip into strips for fastening the tamales. Place the cornhusks in a pan of boiling water, turn off the heat and submerge until completely covered. Let soak for 45 minutes or until soft and pliable.

To continue making the mole, add the vegetable oil to the skillet and while stirring occasionally cook on medium-low heat the onions and garlic cloves until they start to brown, about 5 minutes. Lift the onions and garlic from the skillet with a slotted spatula and place into the blender. In the same skillet, add the pecans and while stirring occasionally cook on medium-low heat until they are slightly darker and fragrant, about 3 minutes. Add the sesame seeds and cook for 1 more minute. Add the roasted nuts to the blender.

Also add to the blender the cranberries, cocoa, cinnamon, allspice, cloves, crushed tomatoes, corn tortilla strips, and broth. Blend on high speed until smooth.

Pour the mole into a pot, and cook on medium-low heat for 20 minutes, tasting and adjusting spices and adding salt if necessary. Once the mole has cooked, pour out half the mole and set aside. Add the shredded turkey to the pot with the remaining mole and stir until the meat and mole are well combined.

To make the masa dough, in a mixer, beat the lard or butter until fluffy and creamy. Add the masa harina, chicken broth and cayenne and continue to beat until the dough comes together into a moist dough. Taste and add salt if necessary.

To form the tamales, take a moistened cornhusk, which you'll notice has four sides and is in sort of a cone shape. Place the cornhusk in front of you, with the pointed end at your right. In the center of the husk, spoon out 1/4 cup of the masa and spread it leaving a clean border around the masa. Place 1 tablespoon of the sauced turkey in the center of the masa along with 1 teaspoon of the mole salsa.

Now, join together the two long sides (not the pointed side and the wide side) and then roll the husk until it's about the width of a cigar. Take the narrower, pointed end and fold it up about 1/4 way of the tamale. You can leave it like this or you can rip strips from a cornhusk and tie the tamale in the middle. Alternatively, you can rip strips from a cornhusk and after rolling, tie up each end like it's a package.

In a large pot, place a steamer basket or a colander. Add water to the pot just to the base of the basket. Place the tamales in the basket seam side down, bring the water to a boil and then cover the pot and turn the heat down to low.

Check the water level occasionally to make sure there's enough in the pot, and steam the tamales for 2 hours. You'll know they're done when the masa pulls cleanly away from the husk. Serve with additional mole sauce. They will keep in the refrigerator for a couple of days and can also be frozen. To reheat the tamales, once thawed, steam them for 20 minutes.