Black-eyed pea and hominy casserole
What a year it has been. Every time I looked at the news, it seemed another awful thing was being reported. Not to mention there was an inordinate amount of strife and loss in my friends' lives this year, too. I am very much looking forward to a fresh start in January.
That said, despite the challenges of 2016 there were some bright spots for which I am very grateful. I traveled to some amazing places, I wrote another book (more on this soon!), and best of all, I spent a lot of time this year with my far-flung family and friends. And even if we happened to be gathering for a difficult situation, such as when my mom's house flooded in the spring, there was still peace and harmony to be found, most often when we were gathered around the table.
For instance, when we were helping my mom move into her temporary home, people kept bringing over breakfast tacos, salads, and sandwiches to keep us sustained as we dealt with the mess.
When the food arrived, we'd stop what we're doing, sit down, and eat. And when we paused things began to seem a bit normal again. With my friends I noticed this trend as well. During this year's political season we didn't all see eye to eye and sometimes the arguments were heated. But whenever we'd stop and share a meal, we were able to find our common ground once again. At the table there was peace and harmony.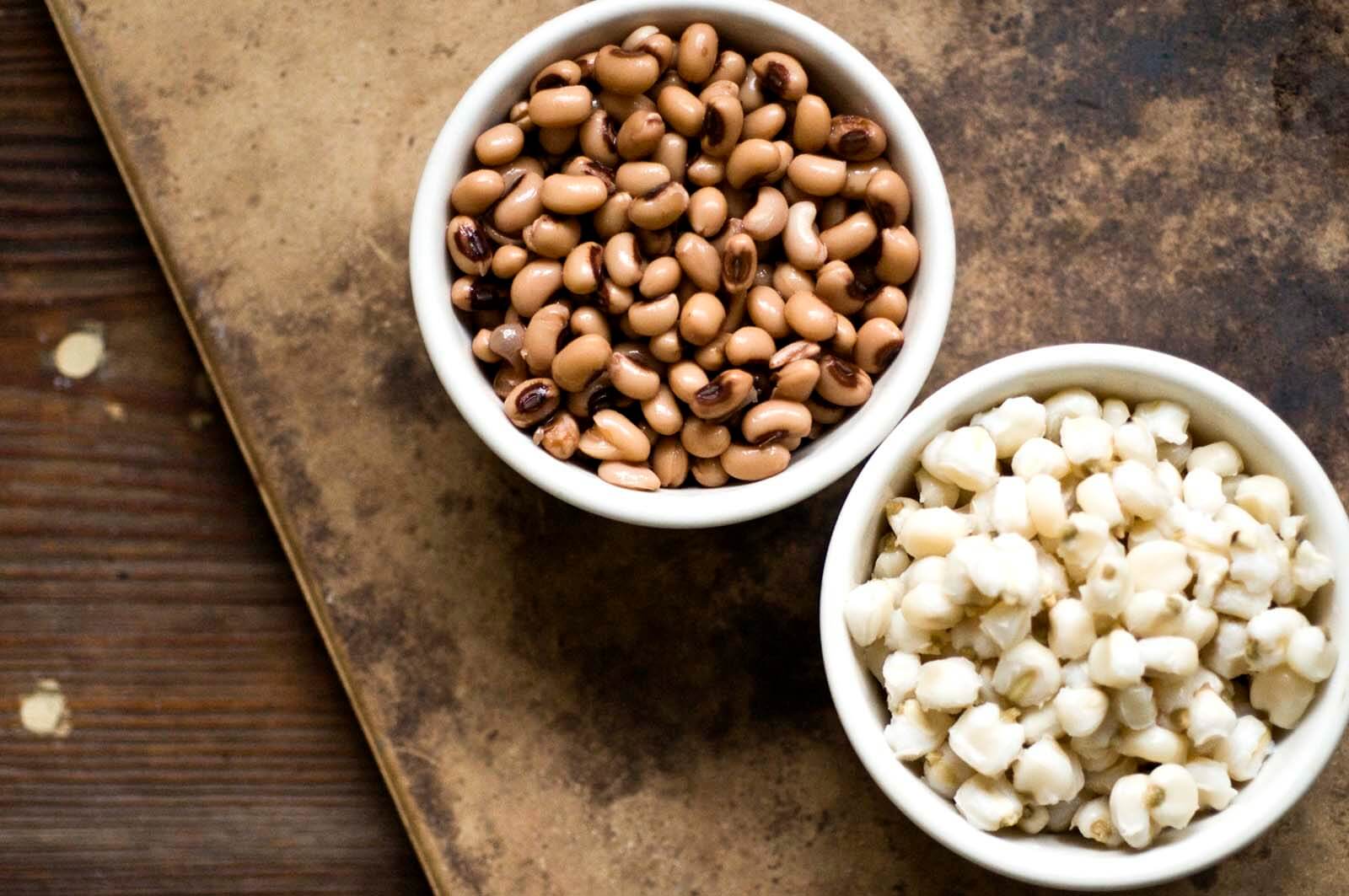 Every year around this time, I start to test black-eyed pea recipes to share with you. It's a lot of fun for me as I adore these earthy legumes and don't eat them often enough. Hominy, is considered a good-fortune food in El Paso and New Mexico, so I decided combining it with black-eyed peas would be a novel thing to do.
At first I was just going to cook the two together in some sort of broth. But considering the year that's passed, I felt extra comfort and fortification were necessary. Since nothing is more soothing than a thick blanket of melted cheese, I made a casserole. And as long as you have black-eyed peas, hominy, and cheese hanging out in a hot dish, you might as well invite jalapeños, bacon, and Rotel tomatoes to the party, as well. They were definitely welcome additions.
This is a bit untraditional, I admit, but if you are a fan of dishes such as King Ranch or chicken tortilla casserole, think of this as similar but with black-eyed peas and hominy instead. It's a satisfying side but it could also be a meal along with a salad. It's terrific plain but you can never go wrong with some sour cream and guacamole on top if you're feeling fancy.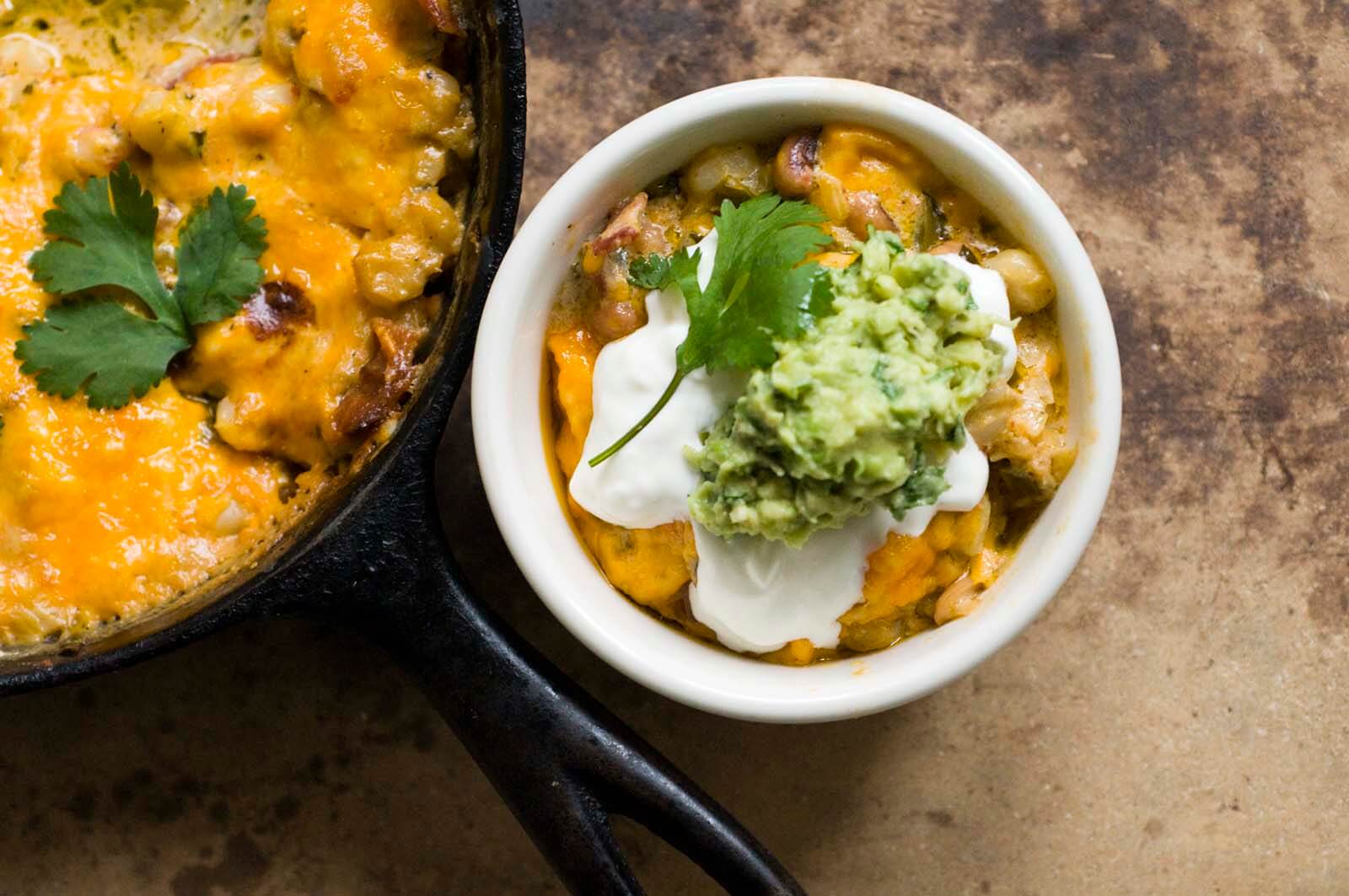 What I enjoy most about this casserole, however, is how well all the ingredients work together. So here for your consideration is a dish for the New Year. And when you share it with your loved ones, not only will there be black-eyed peas and hominy at your table, but some peace and harmony, too. Happy New Year!
—————-
Looking for more ideas? Here are some other fun things to make on New Year's Day:
New Year's Day queso compuesto
Black-eyed peas with bacon and jalapeños
Smoky black-eyed pea and sausage soup
New Year's Day migas with black-eyed peas and bacon
Good fortune soup with ham and collard greens
Green chile pork posole
—————-

Black-eyed pea and hominy casserole
Ingredients
6

ounces

thick-cut bacon

1/2

medium yellow onion, diced

2

jalapeños, seeded and diced

4

cloves

garlic, diced

minced

1

10-ounce can tomatoes with green chiles, drained

1

15-ounce can black-eyed peas, drained

2

15-ounce cans white hominy, drained

1/2

cup

chopped cilantro, plus more for garnishing

1

teaspoon

ground cumin

1/2

teaspoon

kosher salt

1/4

teaspoon

cayenne

1

tablespoon

lime juice

8

ounces

sour cream

6

ounces

1 1/2 cups shredded yellow cheddar

6

ounces

1 1/2 cups shredded Monterey Jack

Sour cream, for serving (optional)

Guacamole, for serving (optional)
Instructions
Preheat the oven to 375°F and line a plate with a paper towel.

In a large cast-iron skillet, cook the bacon on medium-low heat, turning once, until beginning to crisp and the fat has been rendered, about 8-10 minutes. Place the bacon on the paper-towel lined plate and remove all but 1 tablespoon of bacon grease from the skillet (reserving the rest for another use). Add to the skillet the onion and jalapeño, and while occasionally stirring, cook until softened, about 5 minutes. Add the garlic and cook for 30 more seconds.

Turn off the heat. Chop the bacon into 1/2-inch pieces and add it to the skillet along with the tomatoes, black-eyed peas, hominy, cilantro, cumin, salt, cayenne, and lime juice. Taste and adjust seasonings. Stir in the sour cream until well combined, then stir in half of the shredded cheddar and Monterey Jack. Top the casserole with the remaining cheese and bake uncovered for 25-30 minutes or until it's brown and bubbling.

Garnish with cilantro and serve warm, either on its own or topped with sour cream and guacamole if you like.